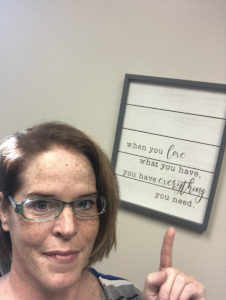 "I cannot even begin to share how much peace has been brought into my life by working with you to get my finances under control in just the past two years since God brought you into my life (because there is no other or better way to say that)!
First, I have officially paid off EVERY credit card that I had! What an amazing feeling!
Second, I have paid off my daughter's car as well, so only have the remaining lease on my car (through May 2022), then will be debt free with cars as well.  And will be in a place to just buy a car for cash and have no future car payments EVER AGAIN!
Third, I am now also just under $10,000 remaining on my student loans.  The student loans that previously felt like I would never be able to get them paid off in my lifetime (before I died)… will all be paid off no later than December 2021.
Fourth, I have a tentative exit date for ending my second job.  That will be a much added relief and a much deserved "break" from working!  And I will be able to continue the rest of my life with just ONE job. Another peaceful feeling!
Fifth, I already have a full plan of how to get my full emergency fund built up and then have a goal of saving money to use for a down payment on a house… Yes, I am going to buy a house for a short term future goal.  This is another thing that honestly before, I would have never even considered I would be in a place to feel comfortable taking on a mortgage (15 yr. ONLY to boot!) that I would also have a goal of actually paying off well before 15 years is up.
Sorry, I realize that is a lot of rambling, and may not be the most coherent in explanations… but to think that when I started down this path, I had $100,878 of debt.  Now sitting with just under $10,000 debt remaining with a very real, very tangible end date in sight, is a surreal feeling.
So, again, I want to say thank you from the bottom of my heart!  And to tell you that what you do makes a HUGE difference in people's lives, so do not ever take that lightly.
God bless you Justin!
Thank you for giving me my life back!" – K. Black