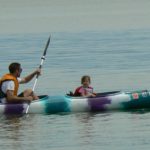 Vacation season is in full swing.  Taking a vacation can be very relaxing and build long lasting memories for the family. Even when the budget is tight, taking time away from regular life is rejuvenating and worth the time.  However, if you are not careful, going on vacation can be very expensive.  Here are five inexpensive ways to have a vacation with your family this year.
Family Camp – Our family has really enjoyed attending camps like this over the years.  These camps typically include lodging, meals and lots of activities for a reasonable price.  Not only are the prices reasonable, they also typically have so many options of fun things to do, that you will not be able to do them all.
Staycation – Staycations have become quite popular over the past several years.  In short this is where you stay home for your vacation.  Now before you write this idea off as "boring" consider ideas such as going fishing, camping in the backyard, creating your own water park, etc.
State Park – When going to a state park you can rent a lodge or cabin very reasonably.  As always, you can pitch a tent too if you are wanting to get the full camping experience.  Most states have websites that have information on all their state parks (what are available, costs, etc).
Visit Relatives/Friends (long distance) – If you have relatives or friends  you do not get to see very often, taking a vacation to go and visit them is a great time to do it.  Usually, there are no lodging costs involved, and if you watch your meals budget closely you should come out a winner here.
Visit Historical Sites – A lot of times you can visit some unique historical places for free or very low cost.
This is only a beginning list of inexpensive vacation ideas.  The hope is either one of these ideas will work for you or stir up your own creative imagination for an awesome inexpensive vacation this year.