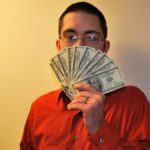 More and more I am sensing a disturbing thing in the air around the Christmas season. According to this article, 45% of those surveyed would like to opt out of Christmas all together.  WHAT?!  Opt out of Christmas?  Why is this that thought even considered?

Christmas can be stressful.
There seems to be a lot of stress around the holidays.  The stress seems to be coming from the traditions that we have place around Christmas.  I am a HUGE fan of traditions.  However, traditions should be fun and filled with joy, not of stress and anxiety.
As like a lot of things today most of our Christmas traditions have moved from the "want" category to the "need" category.  Some of these traditions include buying everyone a gift (including ourselves), real Christmas trees only or the family Christmas photo and cards.  If we buy everything because, "we have to do it," we will have stress each and every Christmas season.
Enjoying Christmas and Avoiding the Stress
Do you remember as a child or back in the day what made Christmas so enjoyable and merry?  When I think back to some of my favorite memories, only a few of them were from the gifts I received.  Most of my favorite memories were from catching up with the family, hearing other family members talking about stories from the past or playing games.
Below are some ideas so that you can have yourself a Merry Christmas.
Remember the real reason for the season
Set boundaries that everyone in the family can uphold (especially if the area of gift giving is a sore spot)
Help a family in need or help out with your church or a non-profit
Create a reasonable Christmas budget (and stick to it)

Read my Christmas Spending Tips blog post on how to spend wisely during Christmas.
If you have struggled with Christmas over the past several years, make 2012 the year that Christmas is no longer a burden for you and family.  Enjoy the holiday season.  It is officially upon us.
How do you make the holidays joyful for your family?