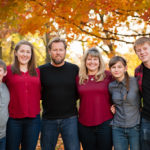 Jon & Patti were living the "American Dream", as a married couple with four wonderful children, they owned a two story house with the white picket fence and of course… the dog.  As successful business owners they were able to create the lifestyle that most people dream of having.  On the outside everything appeared to be going picture perfect.  However, there was a season of life where there were some challenges to overcome.
"It Wasn't Quite so Rosy…"
Jon & Patti knew that things were not going right financially.  It was not an income problem, but more of "where their money was going" problem.  They knew something was not going right with their finances and after struggling on their own they decided that enough is enough.
"We Were Not on the Same Page!"
The Engelman's found out that it wasn't just problems with their finances, they realized having money problems leads to problems in other areas of their relationship.  What they found was that tackling their finances was "A Good First Step!" in getting their house in order.  Here is what they shared.
How A Coach Helps With Your Plan
There is nothing like a plan coming together.  Jon & Patti have seen first-hand when you have a plan in place how much peace you can have in your life.  In 90 days of bringing a financial coach into the picture here are the results they achieved.
Victories in First 90 Days
Fantastic process
Jon – Being able to see all of the money that he had been wasting and help put some focus in this area
Communication is better

On the same team more

Budget creates reason to say no
Patti – Have "warm fuzzies" with Jon not spending as much
Kids are getting benefits from this as well

Oldest child used these principles for Econ class project  – Month 1

Paid off $9,312 in credit cards
Paid off $23,430 car loan
Spending $720 less per month in car expenses
Cut up 12 credit cards
Closed credit cards
Maintained budget

Christmas budget is in cash Stuck with Christmas budget (with cash left over) – Month 2

Trip to Georgia in cash
Founded a monthly budget club
Jon holding to spending when "tapped out"
Over $1,000 surplus in December
Spending $2,000 less on the business (more aware and focused)

Abby (oldest child) holding Christmas spending in check. – Month 3
Where Are They Now
The Engelman's ended up paying off all of their debt, including their mortgage. What is holding you back from committing to a game plan that will cause you to win?  Click the link below to register for your free one hour coaching session today!