David Olsen went through financial coaching earlier this year with Justin, and at the time was planning on completing an Ironman competition. That competition was in August of 2014, so we invited David into the office to share about his training, the competition, and how it's helped his personal finances.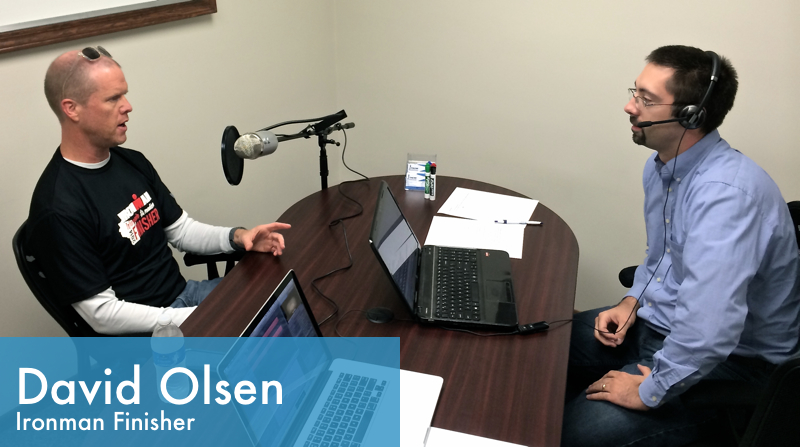 The act of completing an Ironman is not for the faint of heart. If you are not familiar with the competition, an Ironman consists of three events…
2.4 mile swim
112 mile bike ride
26.2 mile run (a full marathon)
The competition started at 7 AM and took David until around 9:30 PM!!! That's over 14 hours of grueling physical activity!
As we dive into David's story we discuss the challenges that he faced throughout training and during the race, and tie it into his coaching experience as well.
[soundcloud url="https://api.soundcloud.com/tracks/172584002″ params="color=27a360&auto_play=false&hide_related=false&show_comments=true&show_user=true&show_reposts=false" width="100%" height="166″ iframe="true" /]
Show Notes
Here's an email from David after completing the Ironman and peaked our interest in getting him back in the office to share his story.
"Well, it's official.  I AM AN IRONMAN :-). I must say, after a rough month previous to the race, I was not sure if I'd even make it to the race much less finish. After crashing on my bike Aug. 2nd, I endured some crazy pain leading up to and during the race.   But, I held onto the fact that so many people were behind me and wanted to see me succeed that I took all I had and pushed through it. My finish time was 14:31 hours so much slower than I would have liked but I knew that just being able to finish was the real prize for me. God really tested me the previous nine months but I kept trusting in him and that was the most important thing in getting me to the finish."
You can see why we wanted to share his story!
Additional Information
Length of audio interview: 24:47
How  having cheerleaders helped during the struggles
Facing depression through pushing your body to its limits
Getting up after a crash and not giving up
How a plan will help you achieve your goals and finish any race ahead of you
Finding a way to finish on time
Accomplishing goals and motivation that comes from it
Philippians 4:13 – "I can do all things through Christ who strengthens me."
Can I trust this guy? (financial coaching)
A Few of David's Victories During Financial Coaching
Giving 10% to his local church
Freed up $4,500 of cash flow per year!
Benefits of Coaching
Getting the push that you need to take action
Holding you accountable to your actions
Help getting on the right track
Confidence in handling his personal finances
David's advice for those thinking about financial coaching: "Go for it! You have nothing to lose, and everything to gain."
This episode is a great inspiration for anything you might be struggling with, or trying to overcome in life. David serves as a great inspiration for us all. Perseverance, endurance, focus, and determination are all things we could use some more of.
If you have a question you'd like us to answer on the podcast, you can leave that on our Questions page.
How has David's story inspired you? Leave a comment and let us know.

P.S. We're working on making the audio available in a few different formats (e.g. iTunes, Stitcher). We just couldn't wait to share this story! Thanks for your patience.
[soundcloud url="https://api.soundcloud.com/tracks/172584002″ params="color=27a360&auto_play=false&hide_related=false&show_comments=true&show_user=true&show_reposts=false" width="100%" height="166″ iframe="true" /]