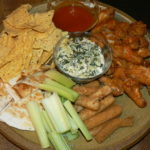 This Sunday will be the annual Father's Day holiday (which originally started in 1910).  You may or may not care when Father's Day started, but most people want to give their father something awesome for Father's Day.  The question is how do you get your awesome dad a gift when your budget is tight?
As the old saying goes it is the thought that counts.  Instead of giving your dad a tie this year (unless he really likes ties) here are five creative gift ideas for Father's Day.
Clean Car – We all know that dads love their cars.  They love it even more when their cars are clean.  Surprise dad by cleaning his car and making it look new and squeaky clean.  This will for sure put a smile on his face.
Gift Card (coffee) – Does your dad love coffee?  How about getting him a $5 or $10 gift card to his favorite coffee shop.  If he doesn't like coffee, use the same idea for his favorite place for dessert or an electronics store.  (You can never go wrong at an electronics store.)
Coupons – How about giving dad a coupon book where he can turn in coupons to have someone else take out the trash, do his chores, bring him breakfast in bed, make his favorite homemade food).  Giving your dad multiple options will score you some big points
Accessories – Maybe buying your dad his dream grill is out of bounds with this year's budget.  How about buying him the accessories to his grill that he has always wanted?  If that is already taken care of, accessories to go with his tools are always a big hit.
Night off – For the dad that does a lot around the house, give dad the night off.  Let him kick off his shoes, hit the couch and then super serve him.  Make your dad feel like royalty.
There are many more inexpensive ways to treat your father this Father's Day.  Whether you use our tips or use your own creative ideas, be sure to treat your father right this year!