Financial Wellness Facts
97% of employees admit that they thought about or dealt with their personal finances during work time – Aon Hewitt
85% of employees report at least some level of financial stress – Aon Hewitt
A shocking 41% of employees can't cover their expenses – Society for Human Resource Management (SHRM)
Wellness [wel-nis] noun
The quality or state of being healthy in body and mind, especially as the result of deliberate effort.
What Others are Saying
"Justin presented basic financial information with excitement and enthusiasm.  His motivational style is empowering!  I wanted to do everything he suggested!" – Ondrea Dory, Human Resources Director, Graceland University
"Attending Justin's budgeting workshop was easy and anyone can utilize these principles to create their own game plan.  I would highly recommend him to speak at your next event!"  – Nick Carda; Co-Chair of the Indianola Young Professionals.
"Thanks again for sharing your time and expertise with our Realtor group. You did a GREAT job, and I was impressed with your presentation." – Jim Manderfield, Broker Associate at Iowa Realty
"Justin's method of breaking things down and demonstrating points were extremely effective. He is fun, entertaining, informative and motivating." – Traci Jennings, Broker/Owner at REMAX Real Estate
Benefits
For Employers
Increased Productivity
Improved Employee Retention
More Participation in Benefits Plan
Boost Morale
Reduced Absenteeism
Increased Employer Profits
For Employees
Eliminate Debt
Save Money
Prepare for Retirement
Strengthen Families
Empower Singles
Reduce Stress
 Workshops
Budgeting & Planning for Emergencies
The secret to winning with money is living on less than you earn.  Participants will leave this workshop with motivation and tools to immediately experience success. Budgeting & Planning for Emergencies will provide realistic steps to reduce the stress of budgeting and teach you how to develop healthy habits including budgeting, using envelopes and planning for emergencies.
Tackling Debt
One of the most common financial goals is to become debt free, but most are overwhelmed with the thought of where to start.  Tackling Debt will not only teach participants how to quickly pay off debt, it also provides inspiration and hope on how becoming debt free can be a reality.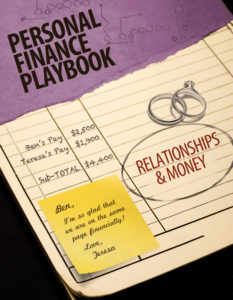 Relationships & Money
Relationships & Money workshop participants gain practical guidance to improve financial communication that focuses on common goals, enhanced cooperation and commitment to last a lifetime.
Other Workshops
Relationships & Money
More B.A.N.K for Your Buck
Giver's Gain
Why a Legacy?
The Wealth Paradox
4.0 Money Tips
Strong Tower Consulting can offer your company a financial wellness program that gives your employees help and hope with their personal finances while improving your bottom line.
To find out how to offer this program in your workplace, contact our office today.
Companies We Have Served
Iowa Association of Realtors – State Convention
IACUBO/CUPA – Annual Conference
Cedar Rapids Association of Realtors
Des Moines Area Association of Realtors
Heartland Area Education Agency – Des Moines
AIB College of Business – Des Moines
Graceland University – Lamoni
City of Waukee – Waukee
Genesis Development – Boone, Iowa
Madrid Home – Madrid, Iowa
Life 107.1 – West Des Moines
Quality One Commercial Cleaning – Ames, Iowa
LogiClean – Ames, Iowa
Seneca Tank – Des Moines
AgriCredit – Johnston, Iowa
Omnium (subsidiary of Land O'Lakes) – Hampton, Iowa
Service Legends – Des Moines, Iowa
Interest Form
[si-contact-form form='3′]