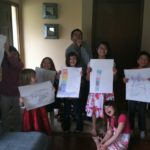 Last year at this time I wrote about my daughter Julia turning six years old and how we had to tell her "no" on her birthday (even to cheese balls).  This year when my daughter turned seven there was another memorable moment surrounding her birthday.
When children become old enough to have friends, all of a sudden having a friend's only birthday party is a must in any child's life (and with our daughter there is no difference here).  So like any good parents we invited several of Julia's closest friends and hosted a friend's only birthday party.
The party started with doing some basic arts and crafts, which led to all of the kids playing in the living room (most of them drawing pictures).  While all of that was going on I kept thinking to myself, "There has to be a fun daddy moment in this somewhere."
Then I uncovered a golden treasure.  I noticed that our roll of paper towels was empty and all that was left was the cardboard cylinder that held the roll together.  That led to some inspiration that only a dad could have.
AHH Monster!!
As the kids were playing in the living room, I snuck up on them and started to do some basic growling like a monster through this cardboard cylinder.  All of them instantly got up and started running away and screaming with joyous high pitch squeakiness (I am surprised that I still have some hearing left).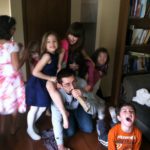 They would go into a bedroom get some pillows and prepare to take on the dreaded birthday monster.  Now I am having fun…too much fun.  Dad is getting way into this monster stuff and I am chasing them all through the house and before we knew it, over twenty minutes had passed by.  We realized that we had to make the unfortunate decision to stop the fun because we still had birthday cake to eat and birthday presents to open.
What's the lesson to be learned here?
Ask any of the kids what their favorite part of the party was and even the birthday girl will tell you, that being chased by a monster was their favorite part.
Do you know how much it cost to be a monster?  Nothing.  All I had to do is be creative and do what little kids love and they had a blast.  What does this have to do with personal finance?  I have seen too many times when little junior has a birthday coming up, parents feel the obligation to go "hog wild" and spend a whole bunch of money on the party itself and presents.  Yet at the same time, the parents are broke, deeply in debt, have saved very little for retirement and have next to nothing saved for college.
I am not saying that having a nice birthday party that requires spending money is wrong (In fact, next year our daughter's birthday will be a HUGE celebration at Incredible Pizza – our tradition when any of our children turn eight).  However spending a bunch of money that you do not have to supposedly impress the little tike is not a good financial plan.  At the end of the day, the best birthday present you can give to your child is to be present and enjoy their special day with them.
Share your favorite birthday moments growing up or as a parent.