Almost everyone knows what a will is. However, not many people think that they need one! A will is an essential part of a solid financial foundation. Along with the proper insurance and an emergency fund, a will is an important step in your journey to financial freedom. 
But, the question remains, in what circumstances do you need a will? Who needs one and why? And, what's the best way of going about getting one? I'll break all of that down for you below: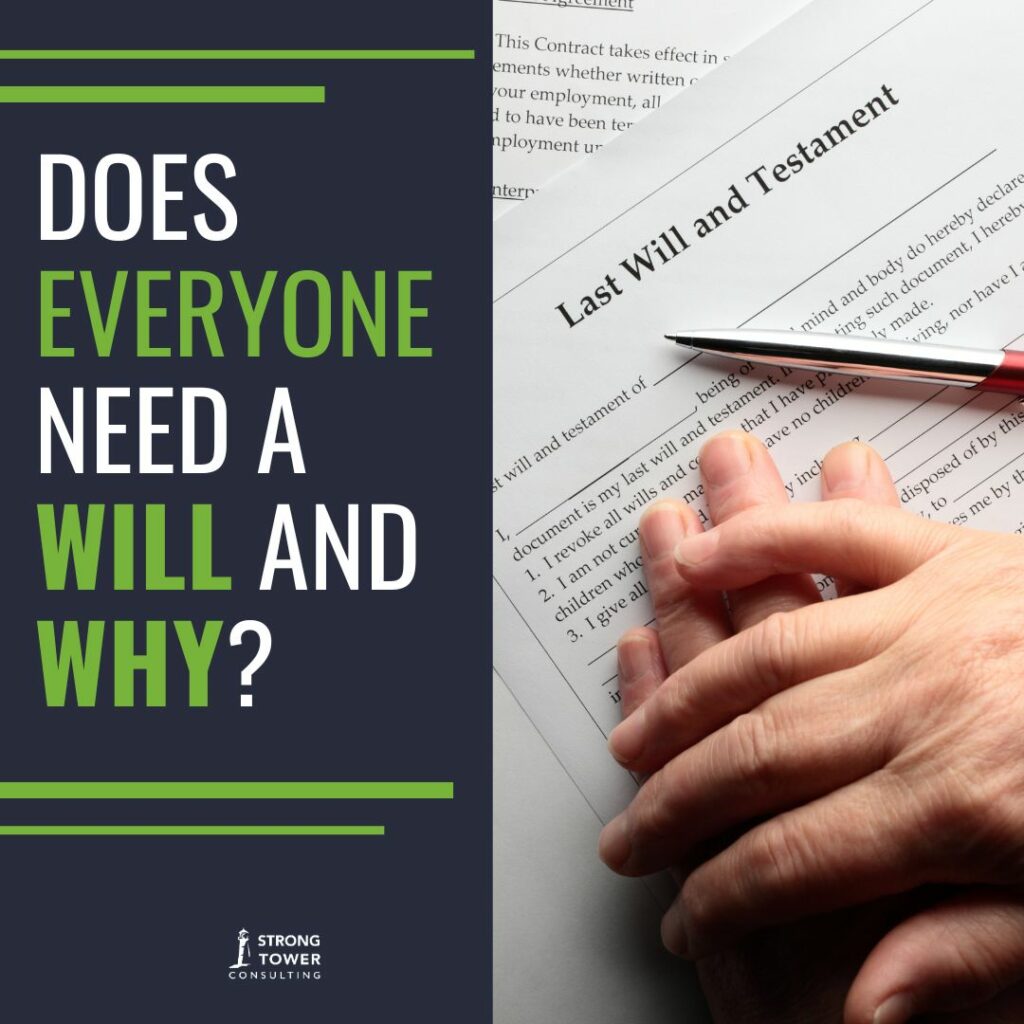 Does Everyone Need a Will?
What is a Will?
A will is a legal document that assigns your children and your property to the right people. You get to decide what individuals or organizations get your money, property, and other assets to make sure your legacy continues the way you want. And, of course, a will ensures your children and pets are taken in by the caregivers you name. 
You've worked hard for what you have. And, no matter who you are, you have assets that matter—even if just sentimentally! A will is the best way to honor your accomplishments and the things you value most. This is why a will is essential to your financial foundation. 
What Instructions Are in a Will?
Executor:

You need someone to carry out your list of wishes. This is what an executor (or personal representative) does! You'll need to appoint a trustworthy family member or friend to do this. If your estate is complicated, you should hire a lawyer. 
Beneficiaries:

All the people and organizations that will be receiving anything of value from you are considered beneficiaries. You could mark your spouse as a sole beneficiary of everything, but you should have a back-up plan written into your will as well. 
Gifts:

This part of the will actually says what items or money go to what beneficiary. Be specific with your instructions so the executor knows exactly your meaning and wishes. 
Guardians:

Name guardians for children and pets in your will. Of course, discuss this with your preferred guardians before you put them in your will. No one wants to be surprised with that news!
What Instructions Are Not in a Will?
Joint Tenancy Assets:

If you own anything like a car or house with someone else (probably your spouse) those assets automatically go to that co-signer when you die. 
Retirement Funds:

There is already a beneficiary declared in your original retirement documents. A will won't control where this money goes.

 
Life Insurance Policies:

Like retirement plans, life insurance policies already have beneficiaries noted in the policy. Those will be the individuals who receive the benefits. If you want to change either of these, you need to contact your policy provider.  
Do You Need a Will if You Don't Have Kids?
Of course! The most crucial thing a will takes care of are children, but there are plenty of other important things it handles too. Whether you have a 3-story house on a lake or $500 in your bank account, you have property that matters. You need a will! 
Do You Need a Will if You Don't Have Assets?
You have assets. You may think of assets as real estate properties, small business, and big toys, but even the five dollar bill in your pocket is an asset. Maybe you have a comic book collection, nice furniture, or a paid off car—all of those things need an owner when you die. So, establish a will to keep things simple for your family if you were to pass. 
Who Needs a Will?
If you haven't already guessed, every adult needs a will! Regardless of your financial standing, your homeownership status, or your marital situation, you need a will to distribute your property and care for the people that matter most.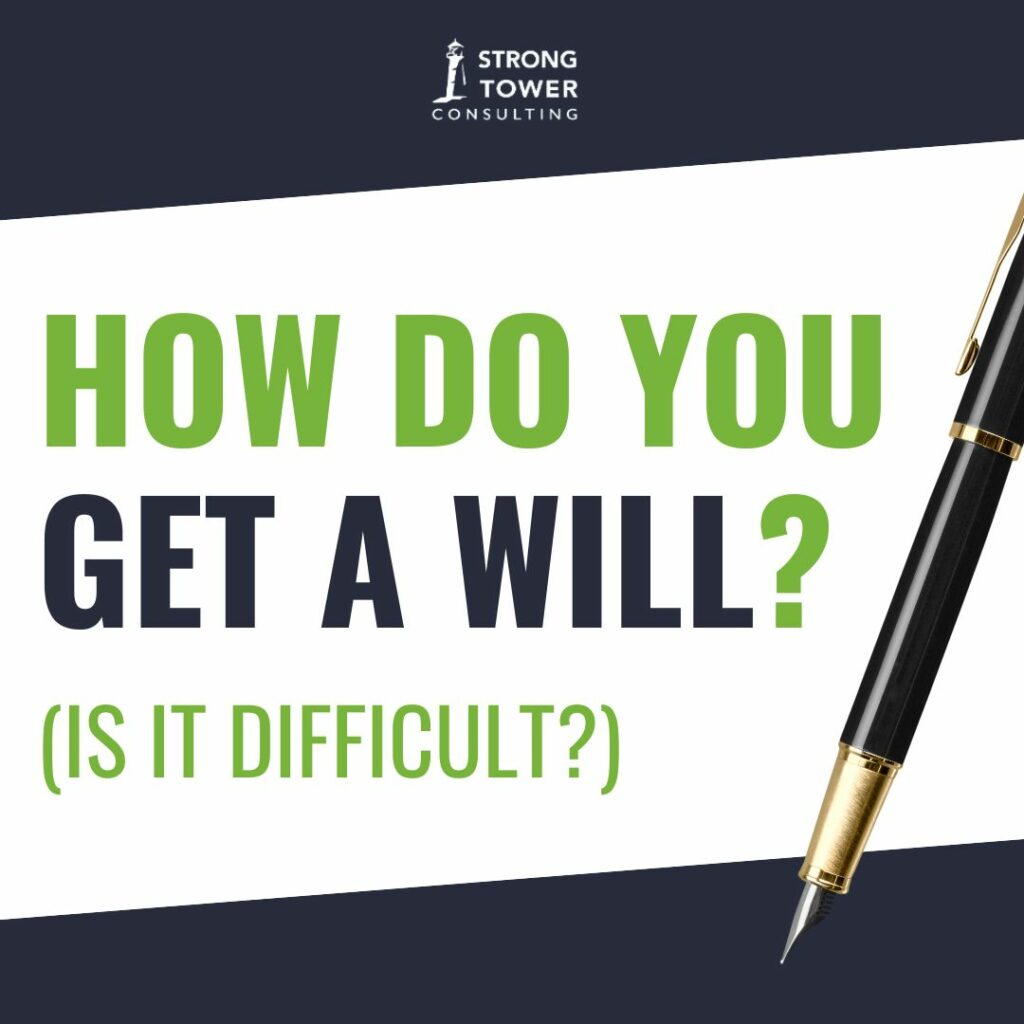 How Do You Get a Will?
To create a will, I recommend you go meet with a local attorney. However, if the budget is really tight, you could also use Mama Bear Legal Forms. Either way, the process is very simple! To make the will binding, you just need to sign it when you're in a sound state of mind in the presence of two witnesses. It's that easy!
Is Getting a Will Difficult?
Not at all. Of course, if you have a lot of assets, it could be a little more complicated for you than others, but for the average American, creating a will is not difficult. Mama Bear Legal Forms says their process takes about 20 minutes, and you can expect a meeting with a lawyer to last just a couple of hours.
Isn't that crazy? In under 30 minutes, you can have one of the most important documents you could ever possess! Most people think the process of getting a will is lengthy, complicated, and expensive, when it's really not a big deal at all! 
Is Getting a Will Expensive?
For around $200, you can get a will completed. I recommend that you get a will as soon as possible, regardless of your position in the Baby Steps. Don't wait! Budget your will for this month and get it done. It's one more thing you can do to give yourself some peace for the future. As you journey through The Seven Baby Steps, your financial situation is improving and now your family is protected if something happens to you. What a great feeling!
How Do I Maintain a Will?
You should keep your will in a secure place within your home, like a filing cabinet, legacy drawer, or safe. Digital copies should also be stored on your computer! Just make sure your executor knows where to find everything.  
Also, remember that your will may need changing after big life changes like marriage, kids, divorce, death, or a significant move. Of course, you can also alter your will any time you change your mind about what you want. Don't just set it and forget it!  
What Mistakes Should I Avoid With My Will?
Not having backups for executors, guardians, and beneficiaries 

Putting funeral plans inside your will (a will is read after the ceremony) 

Including surprises (good and bad) in the will

Never updating and changing your will
What Happens if I Don't Have A Will?
If you don't have a will when you pass, your assets have to be distributed by your state's probate court. They will also decide where your children go! The decisions they make may not reflect your wishes at all, which could leave a long and expensive court battle for your loved ones. That's not the legacy you want to leave. It's time to make a will!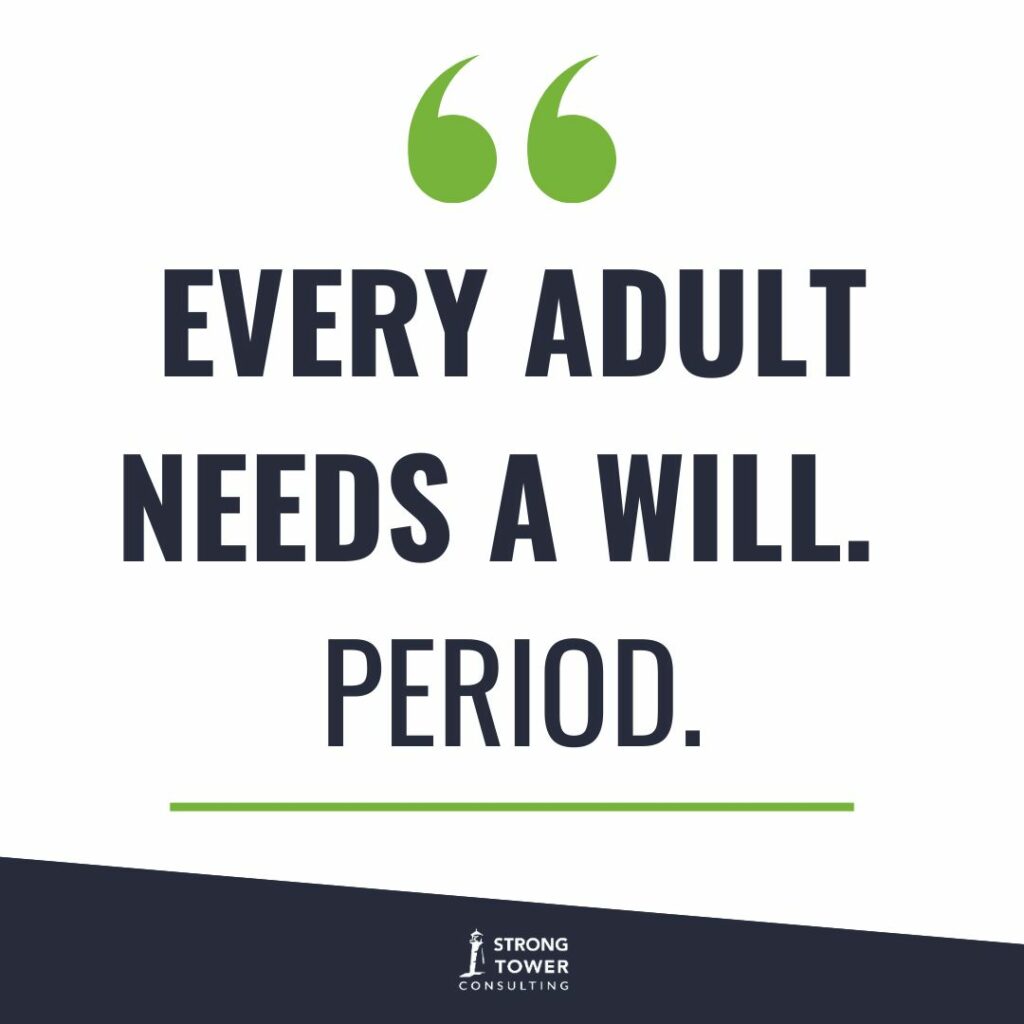 Every adult needs a will. Period. 
Establishing a legacy takes less than a half an hour. You've worked hard for everything you have, don't go another day without a will. This relieves so much stress from your family after you pass, and it secures the future of all your beneficiaries. Give your local attorney a call or head over to Mama Bear Legal Forms and get your will started today.
For more money advice and estate planning tips, head over to the Strong Tower Consulting blog. We've got all sorts of free money advice that will help you gain financial freedom! And, if you're still overwhelmed by the will and the rest of your financial foundation, let's jump on a free consultation call! Either way, I can help you win with money and set up a prosperous future for you and your family.