When you're shopping for a new-to-you car, the vehicle's reliability is probably top of mind. Beyond the paint color, the interior fabric, and the heated seats, you want something that won't leave you on the side of the road or be in the shop every few weeks. You know that spending more on a car means getting a more reliable, durable vehicle, right? Wrong!
That couldn't be further from the truth. There are thousands of reliable pre-owned vehicles out there that are equally dependable, if not more dependable, than newer models. In fact, Consumer Reports found that drivers reported their newer cars encountering frequent recalls and repair issues. This is because these cars haven't been on the market long enough to be thoroughly tested, and newer cars have more bells and whistles to break!
Even if a newer vehicle is slightly more reliable than certain used cars, the price difference hardly makes it worth it. What you would have spent in repair costs on the used car doesn't compare to the substantial price jump you'll see on a new or newer vehicle. 
All that being said, used cars are the way to go. You're not held down with debt and you get the same (if not better) dependability over new cars. But, how do you find a reliable used car? That's what we're exploring today!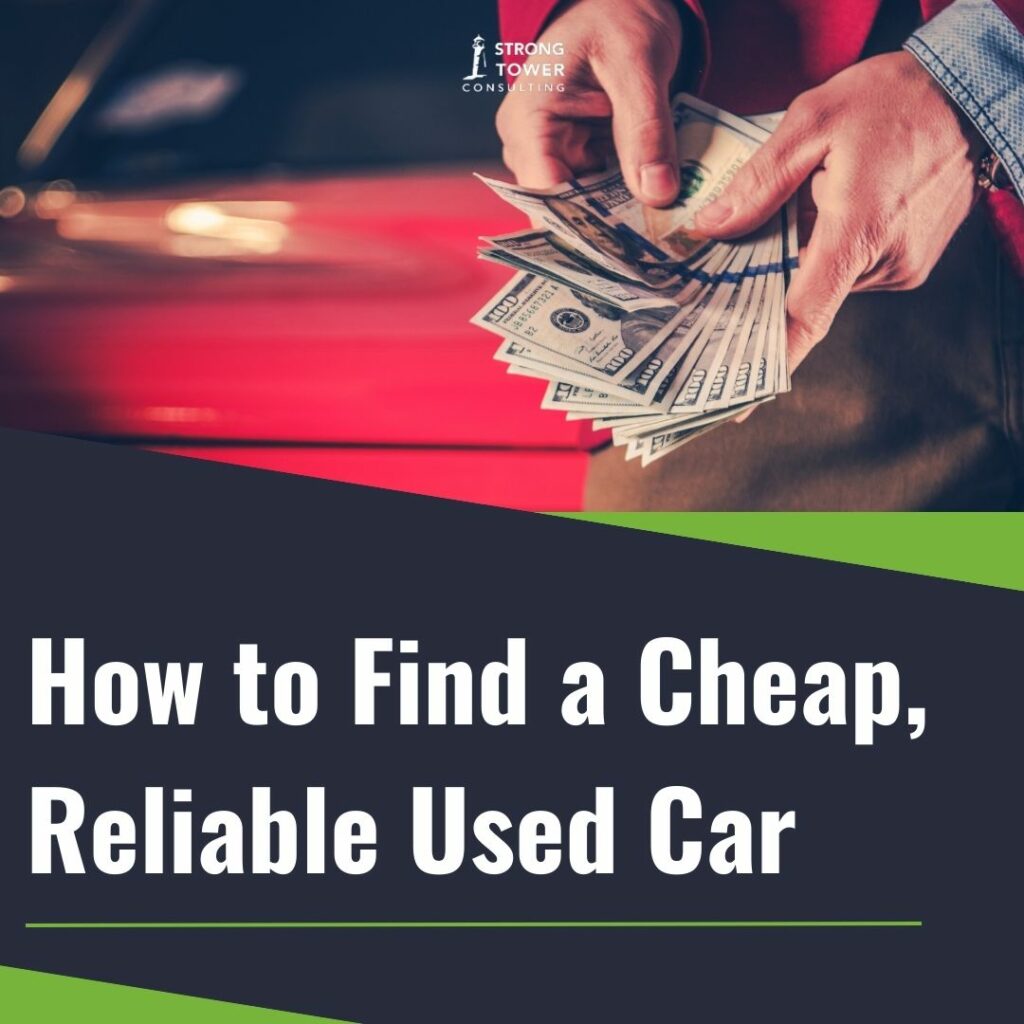 How to Find a Cheap, Reliable Used Car
Make a short wishlist and then make it even shorter. 
What do you need in a car? Remember, the word is NEED, not WANT. Think about things like how many passengers you need to transport and the climate where you live. Make the list of things you need, and then challenge yourself to make it even shorter. Do you need a pickup? Do the kids need a built-in DVD player? Are captain seats really that amazing? 
Set a budget, but don't forget all the costs. 
Once you have your list, look over your financial situation and set a budget. Your bank account, income, and expenses set your car budget, NOT the market. Don't look online and see, "Well, most cars are about $10k, so that's my budget." No way! Determine what you can afford and don't even look at anything higher than your price range. 
When determining overall cost, don't forget about licensing, registration, taxes, and insurance. It's important to confirm you can afford everything associated with buying a new-to-you car! You might even need to consider what your current gas budget will allow. If you set aside just a couple hundred dollars for gas a month, a diesel pickup might be beyond reach. 
Take debt off the table. 
When I say, "set a budget," I don't mean determine what monthly payment you can afford. I'm asking what you can pay for in cash! Debt is bad no matter what, but having debt tied to a depreciating asset is even worse. It ties you down to a payment and it relies on the long-term driveability of the car. 
However, if your car has a major maintenance issue and becomes unusable, you will still have payments AND have the expense of a new car. That means payments on both vehicles! And, with the overall cost broken down into 12-48 payments, it's easy to be tempted into a more expensive car than what you really need.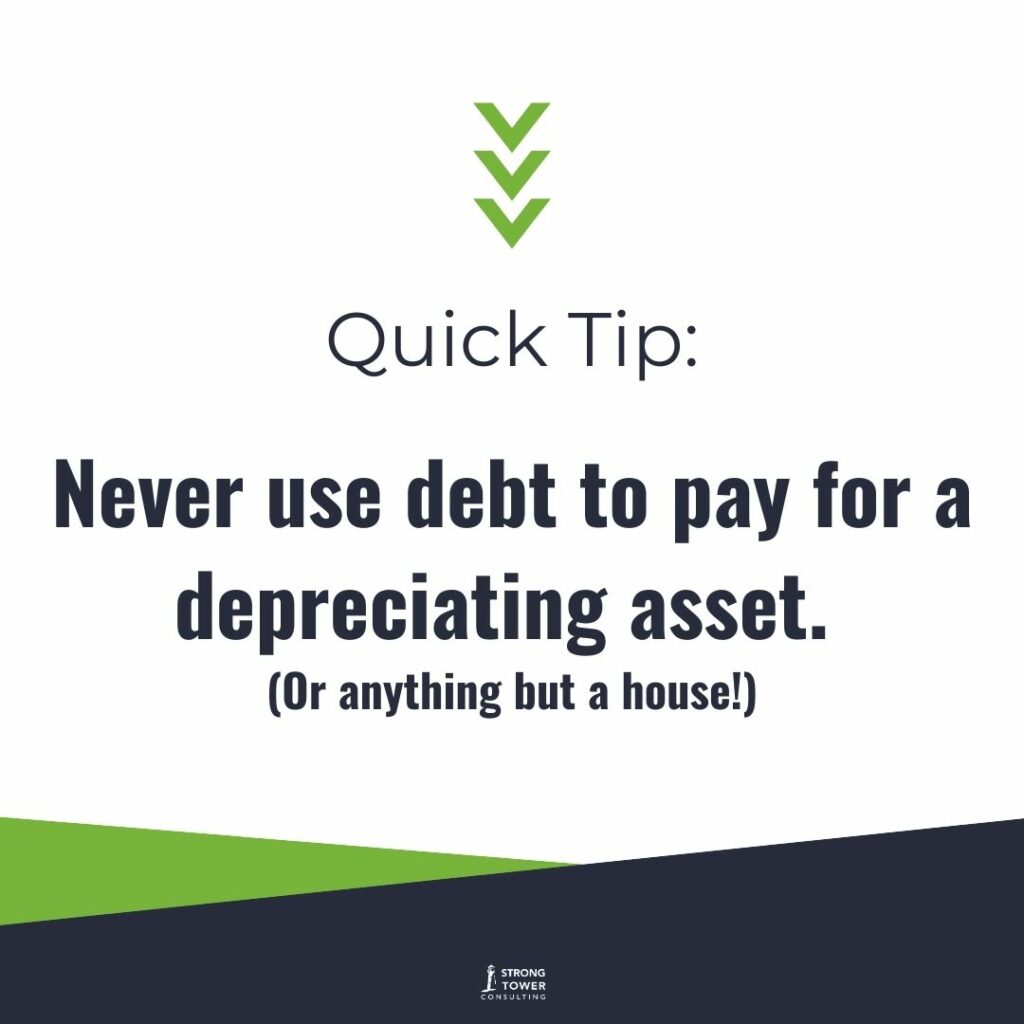 Don't have a certain make or model in your head. 
Though you might have the perfect car in your head, try to keep an open mind. If you're working with a tight budget, it's important to keep your options open. You may be surprised by a vehicle you've never heard of, or you may have to lower your expectations to get something in your price range. Go in with your budget and short wishlist and nothing else. 
Shop at the right places. 
Next, it's time to go shopping. The best places to get a used car are impound lots and government auctions, estate sales, and online private marketplaces. These cars will be the cheapest, because the fewest people need to get paid. Most of the time, these vehicles just need to get moved fast. You can get a great price on a really great car!
The worst places you can go are auto superstores, buy-here pay-here lots, and new car dealerships. Independent used car dealerships are a good middle ground if the other options aren't proving fruitful.
Search using your price range. 
When you're shopping, look only at cars in your price range. Don't even glance at anything above! That way, after you've viewed a few potential vehicles, every choice will be one that's good for you and your budget—No buyer's remorse here! 
Look for highway miles vs. city miles. 
Though you may be tempted to dismiss vehicles with high mileage, highway miles shouldn't be anything you're afraid of. A lower mileage vehicle in the city will actually have more wear and tear than a car that's spent most of its 100,000+ miles on the highway. So, though mileage might be a factor, consider where the rubber is actually meeting the road. 
Take someone with you who knows more about cars. 
If you're not someone who knows much about cars and what to look for mechanically, take someone with you who does! Having someone in your corner that can prevent you from being manipulated by a motivated seller will help protect you from buying a lemon. Even if the person just knows a bit more than you, two heads are better than one for diagnosing potential problems and making a good purchase. 
Perform a thorough test drive. 
Do a thorough test drive of any vehicle you're buying. Don't just feel how it drives, but try to use as many car functions as possible. Adjust the seats, turn on the heat and AC, manipulate the mirrors, roll the windows up and down, and even be aware of smells. 
A mildew smell could be a sign of flood damage or a smoky odor could make you reconsider the vehicle for your newborn baby. The point is, keep all your senses heightened and ready to receive information about your new car.
Research that vehicles make, model, and year online.
Once you've decided a vehicle might be right for you, do a little Googling. See if there are any known issues with that make, model, and year. Some car types are overall a good buy, but they have a few year models they have known issues that make the vehicle unreliable. It could even be the secret reason they're selling the car! 
Run a vehicle history report. 
If that last part comes back clear, it's time to run a vehicle history report on CarFax or AutoCheck. You search the VIN and will get records of recalls, accidents, previous ownership, and even some maintenance history. This will give you further insight into the dependability of the vehicle. Look for vehicles that have "clean titles," which means no major accidents! 
Get an independent inspection. 
Once you're ready to buy, do one last thing! Get the vehicle independently inspected. Of course, you should pay for this yourself and just eat that cost. It'll be well worth it for the peace of mind. However, some mechanic shops even do this for free in hopes you come to them for all your maintenance needs. 
Feel good about your purchase. 
Once you've made the purchase, feel good about it! Don't mourn the fact you didn't get the leather interior, temperature controlled seats, automatic start, and all the rest. Be happy you made a wise, reliable purchase that won't come back to bite you!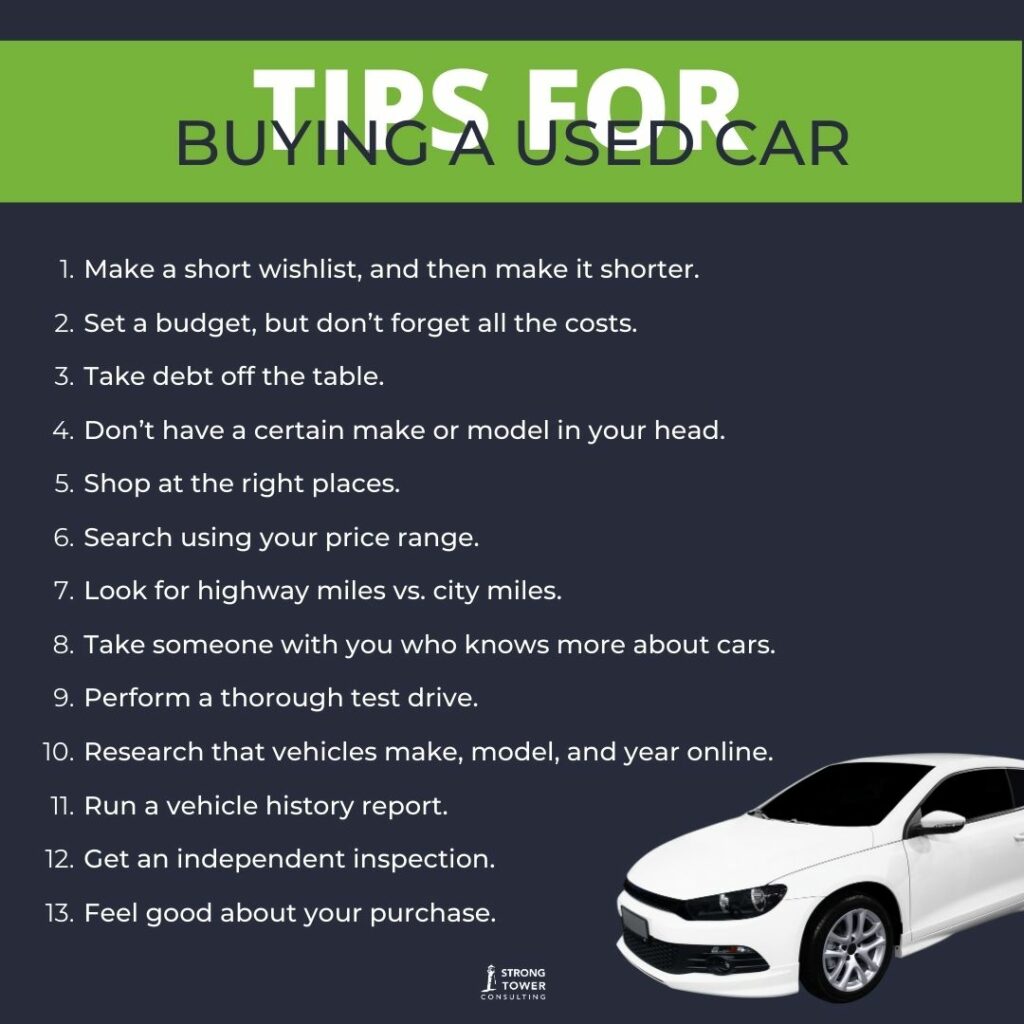 Buying a reliable used vehicle is possible with these 13 car buying tips! 
If you need another vehicle or a different vehicle, don't go with the latest and greatest. It's not worth the money, and you may end up in the shop just as often. Instead, find a dependable pre-owned car that'll get you where you need to go without payments or buyer's remorse. 
The best part is, this wise car purchase will propel you to other financial goals. Just think of what you can do without that $700 car payment? (That's the average in America!) You can pay down debt, build an emergency fund, or save for a vacation! 
For more personal finances tips, check out our blog. And, if you want more personalized advice, request a free financial coaching session with me. I can't wait to meet you!