Over four years ago I started Strong Tower Consulting as a full time financial coaching business.  So much has happened since my first day at the office.  Strong Tower has become much more since that day.  Since then we have added live financial workshops, online resources and now are in two locations (Ames and Des Moines).  However, the latest addition to Strong Tower is definitely a first…
Strong Tower has brought on its first addition to the team, Eric Williams, both as a Financial Coach and Content Director.  As a financial coach, Eric will be doing just like I have been doing providing one-on-one financial advice without selling any products such as investments or insurance.  He will also be overseeing and developing content strategies to spread our message of financial freedom to the masses.
How It Began:
On March 4, 2014, (which happens to be my brother's birthday) Eric and I had a lunch appointment to catch up on each other's lives and see how things were going.  We have known each other for the past couple of years and were even on a Channel 13 News segment together.  One of the things on my agenda was to see about doing a couple of podcasts together and sharing them on both of our websites.  Before I could get that far Eric shared some news with me that began to change the course of conversation very quickly.
"I think I am ready to leave the corporate world and do what you do," Eric explained.
I can definitely say was I not ready for that one!  I knew that Eric had a passion for helping people get out of debt and win with money.  He has a very successful blog at Words of Williams that is reaching tens of thousands of people nationwide.  But to become a full-time financial coach…never saw that coming.
As I quickly assessed the situation I realized that Eric is serious and we could either work together or become competition.  I love the power of team work and have seen the results of that being a part of team with a national group of financial wellness coaches at My Money Wellness.  The other thing I like about Eric is that he has the opposite personality of me (which most people would agree is a good thing – note sarcasm).  With his knack for all things online and what I do offline (speaking and sales) I began to get a vision for a potentially powerful 1-2 punch combination.  I then boldly asked Eric, "What about us working together?"
We agreed to begin praying about this, seeking wise counsel and meeting weekly at lunch to discuss this vision further (including going out with our spouses to confirm the direction we were heading).  Six months later on September 2nd, Eric became an official member of the Strong Tower team!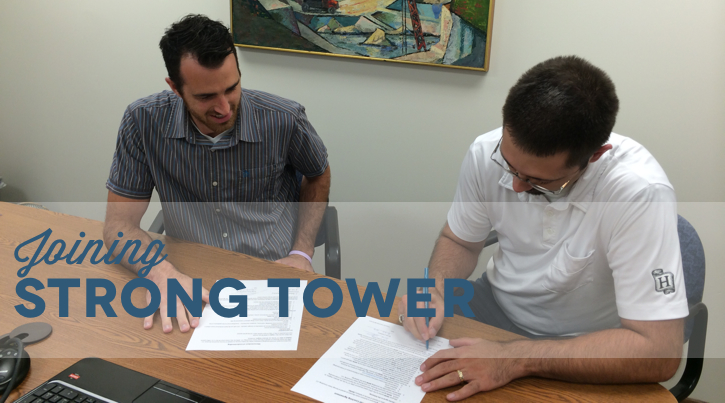 I am very excited to have Eric join the team and help make an impact changing lives together.  Take a moment and check out his blog Words of Williams.  Also, stay tuned as we are refreshing the website and will be adding several new features that will give you more tools and resources to stay on top of your finances.
What benefits have you seen working together as a team (in any area of life)?
What resources can Strong Tower provide to help you reach your financial goals?