Is it Wrong to Take Student Loan Forgiveness? 
A little over a month and a half ago, Joe Biden announced a sweeping student loan forgiveness program. He claimed that many low- to middle-income borrowers would receive $10,000 in forgiveness, and those with Pell Grants would get $20,000. This left many on both sides of the aisle with mixed feelings! On one hand, paying off debt feels great, but on the other hand, something feels slimy about this way of doing it.
Much like the COVID relief packages, we all know that this "free money" really isn't "free." So, if you're one of the millions eligible for this student loan forgiveness, what will you do? Will you fast track your debt free journey by accepting the forgiveness? Or, will you charge on, whittling away at your debt using your own money? 
It's a hard choice! So, today, we've dedicated our post to the morality of student loan forgiveness. Is it wrong to apply for Joe Biden's student loan forgiveness program? Let's discuss: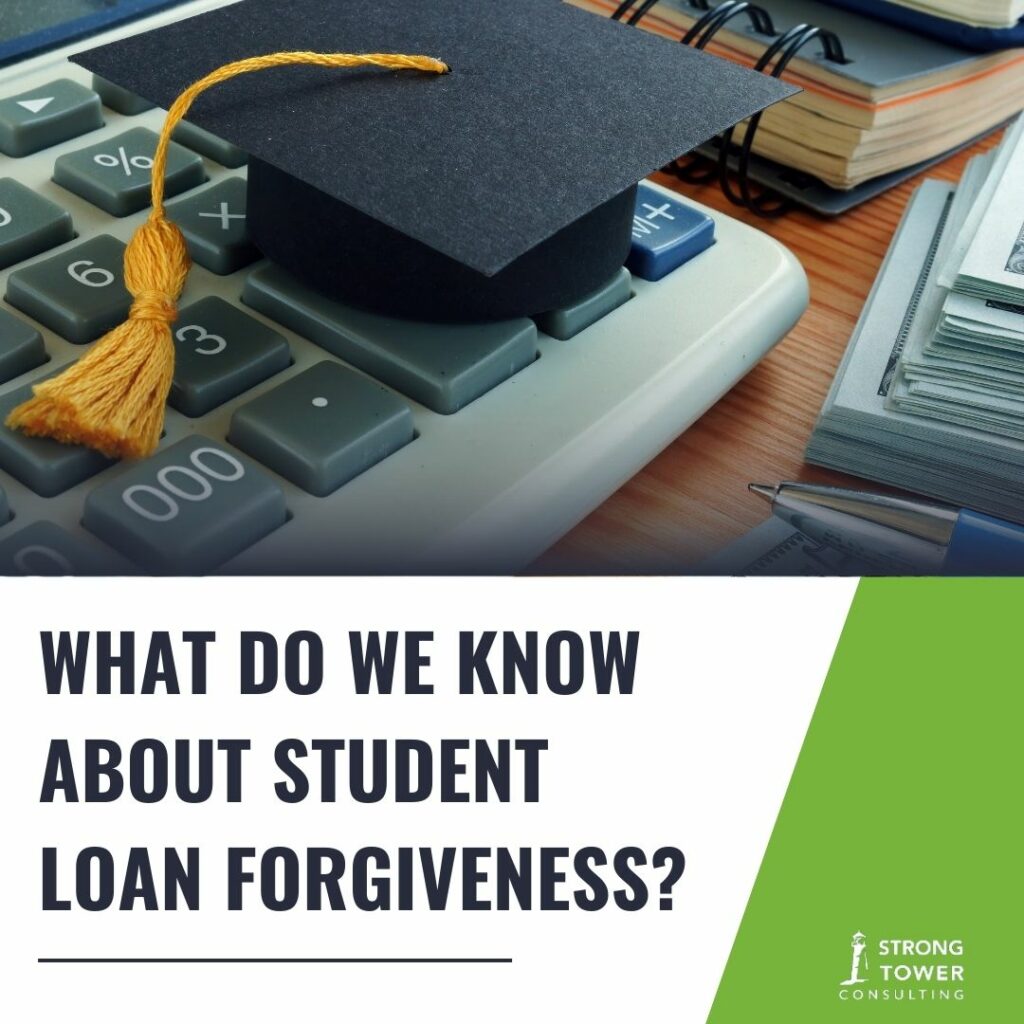 What Do We Know About Student Loan Forgiveness? 
First of all, what do we know so far? Really, it's simple. If an individual makes less than $125,000 per year or a family makes less than $250,000 per year, they'll be eligible for the $10,000 in forgiveness. If you had a Pell Grant, you'll receive $20,000 off your current balance. 
These amounts are for federal loans only that were taken out before June 30th, 2022. Private loans are not delivering any loan forgiveness through this program at this time. (Though, the Department of Education has stated they're looking for ways to assist those who have commercially held federal student loans. So, we'll see!) 
To get the forgiveness, you'll fill out a form on the Education Department's website. They've stated the form will be pretty easy, and they're not requiring proof of income during the initial application process. That being said, anyone caught lying could face huge fines and jail time! I would not recommend fibbing to get that 10 grand. It'll cost you a lot more than the debt payoff.
When is this all going to happen? That's a good question. The form was supposed to be out by now, but borrowers are still waiting for an update. This is likely because of the pending legal challenges over this unprecedented student loan forgiveness program. We've never seen anything like this, and some lawmakers question if it's constitutional. So, no need to rush to your decision. It might be a few weeks or months before the form is available. 
Is it Wrong to Take Student Loan Forgiveness? 
Knowing all this about student loan forgiveness probably doesn't make the decision to take it or not any easier. Since you have to apply, and it doesn't just show up in your bank account like COVID relief payments, many are feeling really torn about the morality of taking this money when they don't agree with the political position. 
This is totally valid! It's easy to see what good could come from taking this money. And, it's easy to feel sick about taking money you don't need or don't deserve. At the end of the day, neither decision you make is wrong, but here are some things to consider: 
You pay taxes. 
You pay a lot of taxes. Most of that money, you never see again. The ethics of money getting taken from your paycheck, property, and purchases is up for debate. But the truth of the matter is, even with a 10k bump, you've given a lot more to the government than they'll ever give to you. If we're looking at an even trade, the government owes you a lot more than $10,000
Additionally, it's very likely this forgiveness will raise taxes in the future. The government can't foot a $500 billion bill. So, one could argue you'll pay back your student loans either way. Even with the forgiveness, you'll pay back that 10k and then some (a lot of some) in the future through your taxes. 
You signed up for the student loans. 
That being said, you signed up for these student loans. They are not a punishment. No one forced you into it. Even if you felt like as an 18-year-old you were poorly informed and ill-equipped to make the decision, you still did. You still got the education. Therefore, you owe the money. No ifs, ands, or buts about it. 
So, thinking that you're entitled to this forgiveness is probably a false perspective. You have every moral reason to pay this back, and very few not to! If this is your conviction, you shouldn't take forgiveness. Also, don't take debt out for any future education expenses!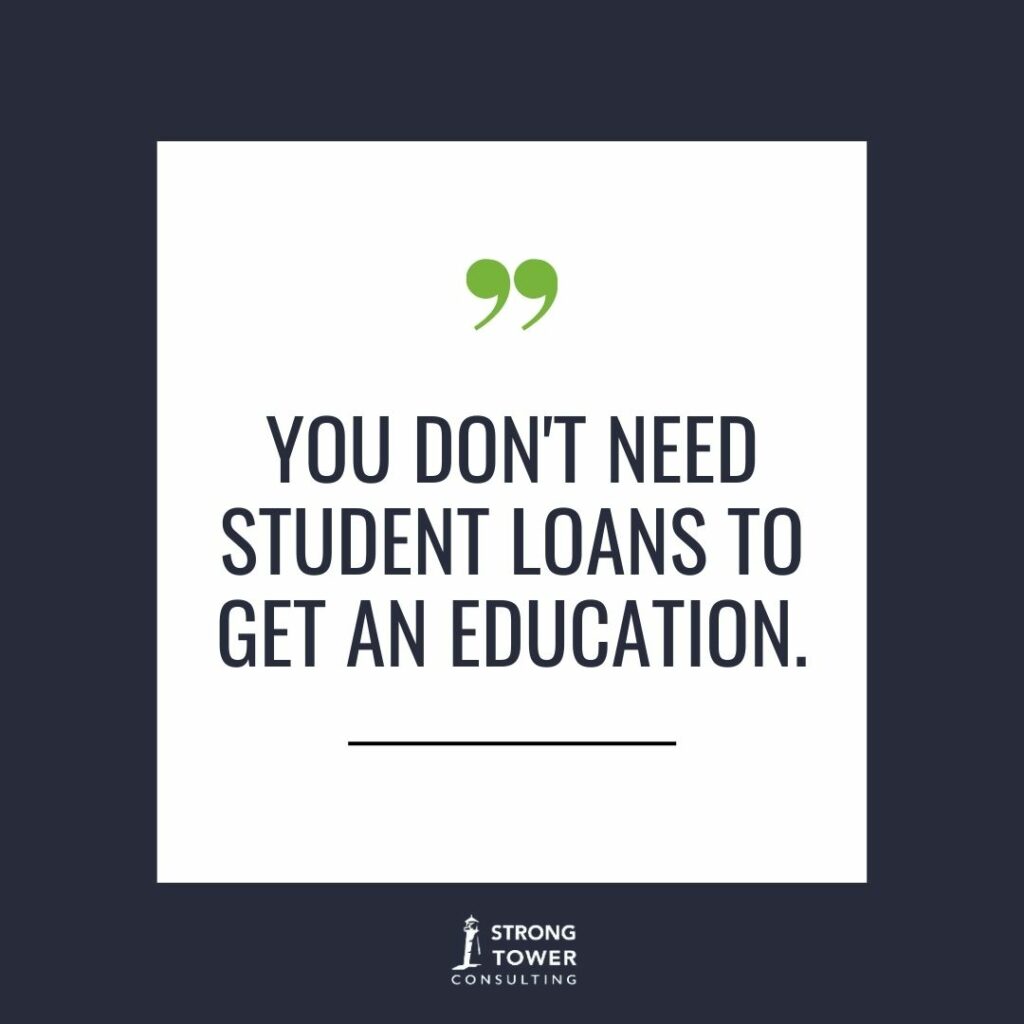 Your life looks different debt free.  
You've probably spent a ton of time considering what your life looks like debt free. Let me guess, you want to be ultra-generous? I thought so! If you plan to pay off debt and then give back to the community in BIG ways, the forgiveness might sound extra enticing. 
With the forgiveness, that extra 10k in your future bank account could pass on to those in need. Instead of the government keeping the money to do their own bidding with it, you could choose yourself where that money goes! It could go to a church, a local non-profit, or an organization you love. The point is, the bump would help you and help others.
You know this doesn't solve the greater problem. 
Students in Texas are suing the Biden administration, because their future loans will not qualify for loan forgiveness. And, why not? It brings up a great question! By forgiving student loans, the government is admitting in some way to predatory lending, overpriced education, or other student loan issues. 
However, how will forgiving past debt change what's wrong with the student loan industry? It won't change anything! There will be more loans taken out in the future, and there seems to be no plans to protect future young people from massive student loan payments and crippling debt. 
So, really, is participating in this student loan forgiveness just feeding the problem? Would it be better to not participate in protest of the bigger issue? 
Your heart is what matters. 
At the end of the day, if you feel icky about taking student loan forgiveness, you shouldn't take it. If you're only NOT taking it because you're worried about what other people will think, you should apply. It's not morally wrong to take forgiveness or to not take it. Do what you feel led to do after you search your heart and do your research. And, once you've made your choice, don't sweat it! Don't feel guilty. Don't feel like you missed out. Have peace in your honorable choice!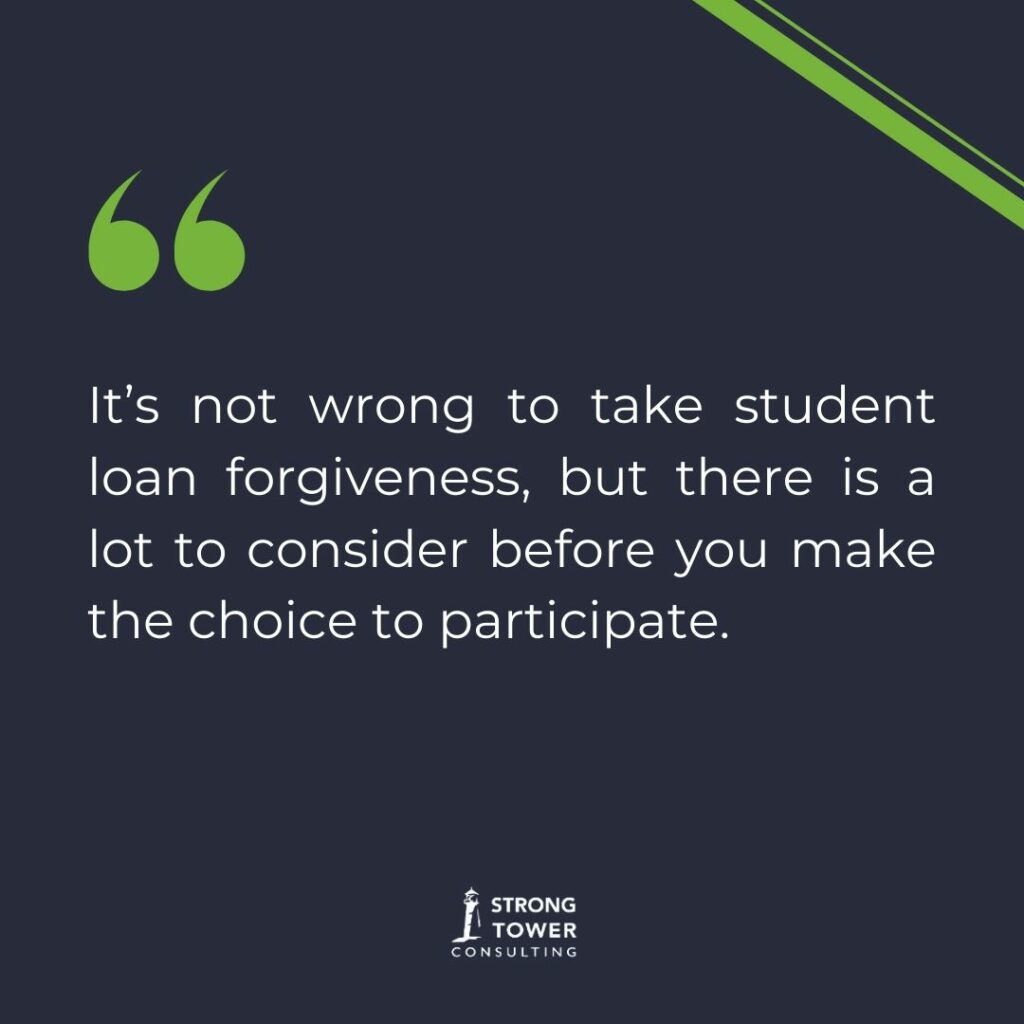 It's not wrong to take student loan forgiveness, but there is a lot to consider before you make the choice to participate. 
Student loans are a big problem. Whoever thought we should normalize debt for education has ruined the lives of millions of people! There are so many ways to afford higher education, so if you have kids entering their college years or you're considering a masters, take debt off the table. You don't need it! 
As far as forgiveness goes for past debt. Take it or don't take it. The choice is yours, but make sure you're morally at peace with your decision. And, if you have the cash, pay off your debt now. Don't wait for this forgiveness that's still totally hypothetical. Get debt out of your life today! If you're thinking, "I've got a lot more debt than 10k of student loans," I get it. Meet with a financial coach to help you become debt free! You deserve financial peace.