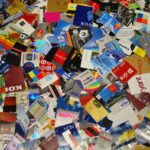 Shouldn't it appall us when someone offers us a chance to be indebted to them, as if it's a good thing?  A couple of weekends ago my family and I went to visit the new Kohl's store in Ames, Iowa.  There has been a lot of buzz about Kohl's coming to town lately and so we made the effort to check out the latest thing happening in Ames.  However, as soon as I walked through those electronic sliding doors, I was shocked by how I was greeted.
As I entered the store, a very professionally dressed young woman greeted me by asking me if I had Kohl's credit card.  I said no.  Her next question was, would I be interested in completing an application to receive Kohl's credit card, again I said no. 
First Impressions Are Everything, Right?
You may have heard how the first impression is everything.  My first reaction to this was, "Really…the first thing I am greeted with when I walk in to the store is someone offering me a credit card?"  The lady was polite and professional and it was not like she was begging me to sign up.  But still, the fact that I could not get two steps into the store with being asked if I had a Kohl's card really baffled me.  Since when is a friendly greeting an offer of debt?  How about a simple "hello" instead.
My fifteen year old son and I had a discussion about all of this.  We talked about how sad it is that department stores rely so heavily on revenue from their credit card sales and how a lot of people get drawn into these credit offers like insects drawn to a flame.
What's worse is that a lot of department stores now have requirements that certain employees (usually cashiers or someone in sales) have to take "X" amount of credit applications, in a certain time frame and if not they could lose their job.
What's in it for me?
That is the question that they attempt to market to us as consumers.  That is why the pitch to you is you get 10% off purchases using this card or if you get "X" amount of points you can redeem them for something awesome.  That is called sales and marketing.  They are trying to show you the benefits of signing up and using their credit cards.  The problem is that you really did not gain any real benefits.  Let's take a look why not.
Usually they build the discount into the price of the item (which means they did not lose any money and you really did not gain anything).
It has been proven when you with plastic instead of cash, you will spend 12-18% more using plastic (and the department stores know this about you).
If you are really interested in saving money you can purchase most retail items on EBAY, Craigslist, consignment stores, etc.
I am not writing this to pick on Kohl's.  In fact, I am not sure of any department store that does not fit this description.  The bottom line is that businesses (especially department stores) are focused more than ever before to try to get you to buy their product and to use their credit cards in the process.  Remember, at the end of the day this benefits them not you the consumer.  If you are still not convinced then ask yourself this question, "What kind of friendship would we have  if I begged you to borrow money from me every time you came to my house?"
Do you believe you are saving money by getting the discounts and the points awarded to you by department store credit cards?