What Kind of Mortgage is Best?
Mortgage. This household word (literally) has an eerie origin. If you're into etymology, you know the root word "mort" in mortgage literally means death. The term comes from Old French, and Latin before that, and literally means death pledge. Whoa.
Buying a house is one of the most stressful and exciting times of your life. Homeownership is a great investment, and having a place to truly call home without the frustrations of renting is super exciting. However, buying a home is one of the biggest purchases you'll ever make, and a lot can go wrong. And, if you ask certain experts, they'll tell you what makes them the most money, NOT what's best for you. 
Luckily, I'm here to walk you through the best mortgage option out there. In fact, it's not just the best mortgage type for you, it's the best mortgage type PERIOD. That makes it easy, right? Well, let's get into it. Below is my breakdown of the best (and WORST) home loans for your family: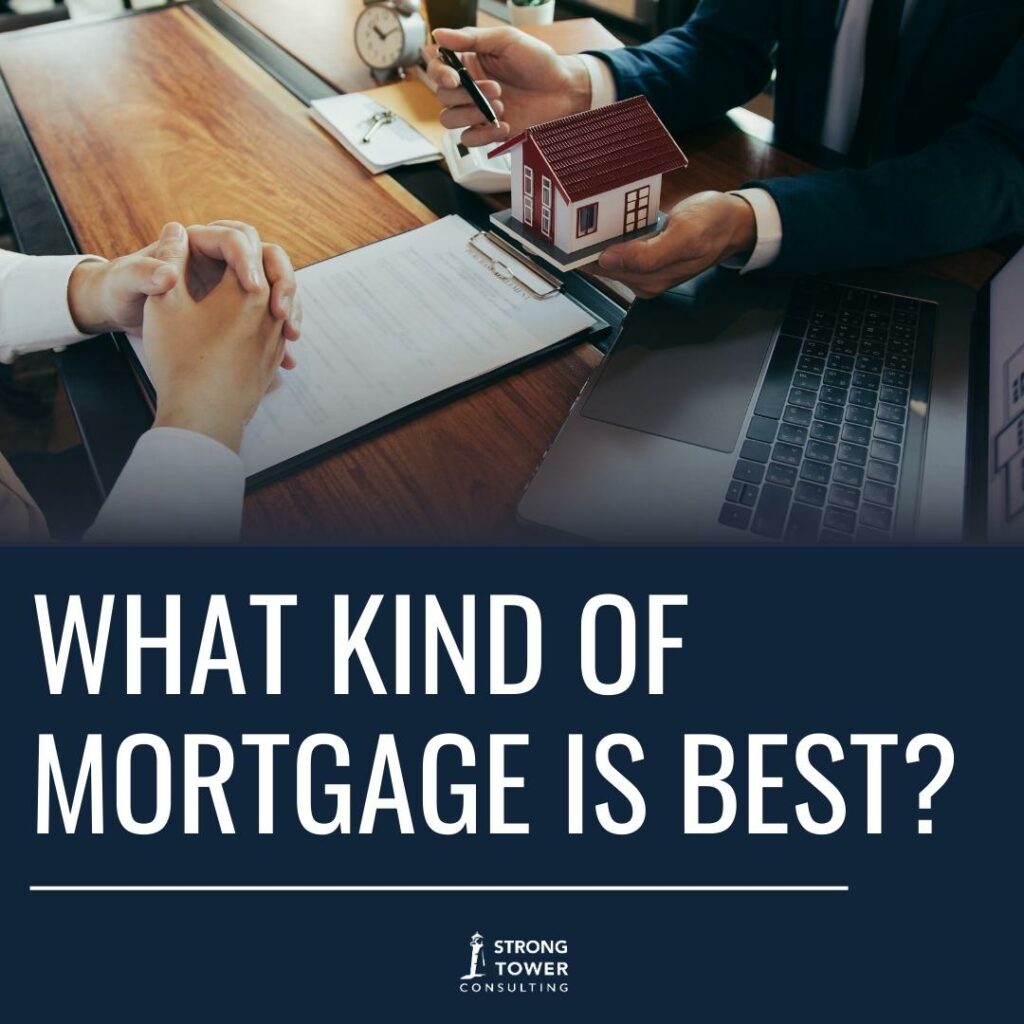 What Kind of Mortgage is Best?
Though there are a number of loan types available, you're likely considering a 15- or 30-year conventional loan. Most lenders will default to discussing 30-year mortgages, because the payments are lower and more comparable to what you're spending on rent. 
However, 30-year mortgages have significant disadvantages over a 15 year loan. Mostly, a 30-year mortgage distances you from all of your big future financial goals. Here's why a 15-year mortgage is a much better choice:
Pros of a 15-Year Mortgage
Costs You Less 
When you get a loan, you pay interest. (You know that, of course!) But, when you make payments for only 15 years instead of 30, you spend 15 fewer years paying interest on your loan. This means the total you pay for your house is significantly cheaper than the 30-year mortgage! 
And, when I say significantly cheaper, I mean it! Here's an example of the type of savings you'll encounter with a 15-year mortgage. For a $200,000 mortgage with a 20% down payment:
A 30-year fixed-rate mortgage at 6.5% has monthly payments of $1,265 and a total interest cost of $255,091.

A 15-year fixed-rate mortgage at 6% has monthly payments of $1,688 and a total interest cost of $103,788.
That means you'll save $151,303 on a 15-year mortgage. WOW! Think of what you could do with money like that. Going for a 15-year fixed-rate mortgage will save you TENS OF THOUSANDS.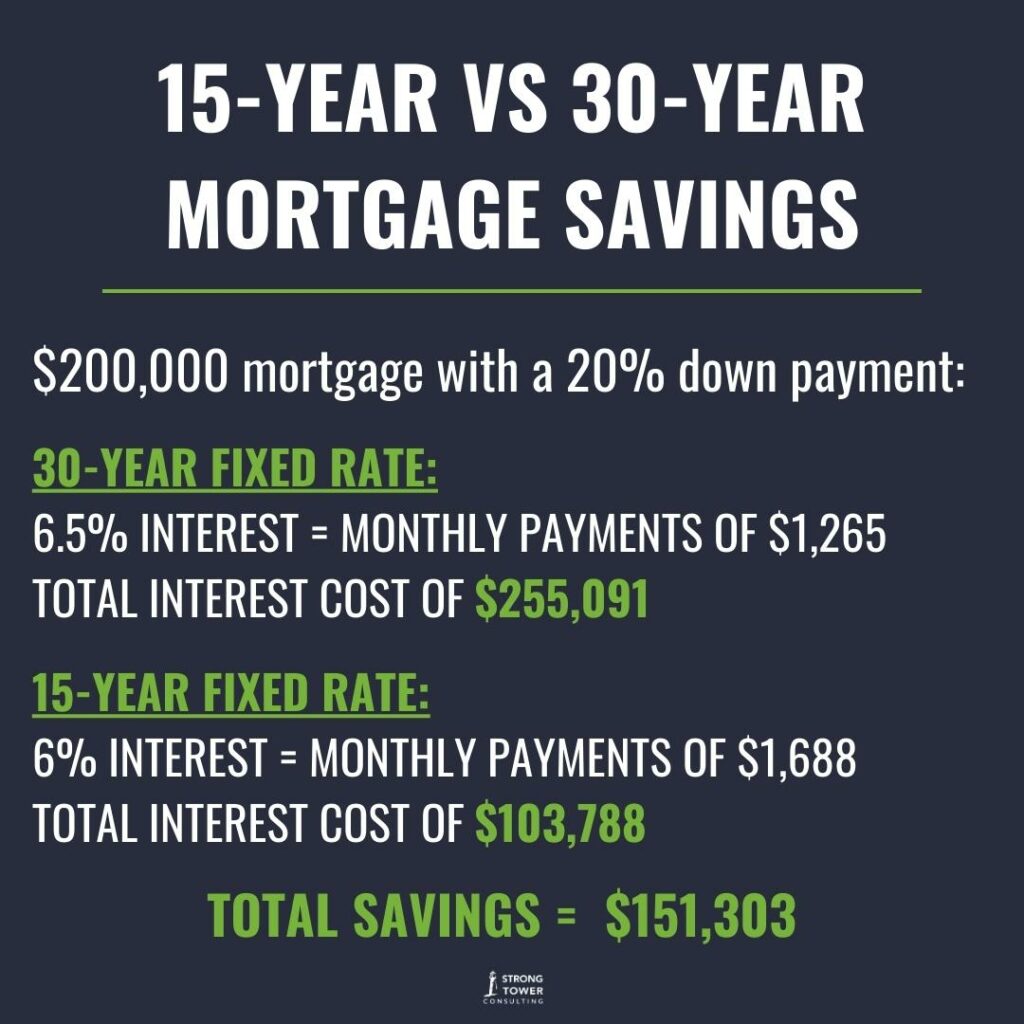 Propels you Closer to Future Financial Goals 
Think about the last 15 years of your life. They went by fast, right? The next 15 years will go by even faster. By the end of this next season, you'll be mortgage free! Which means, if you have big financial goals, you can pursue those aggressively in just 15 years. 
Do you want to start a business? Do you hope to give with crazy generosity? What about big home renovations? Huge investment opportunities? A massive family vacation? Significant college savings to get your PHD? Or, hey, what about that dream sports car? Whatever your hopes and dreams are, just think, in 15 years you'll be free of mortgage debt and FREE to do what you want with all that extra cash. 
Builds Equity Faster
When you pay off a mortgage loan faster, you build equity much more quickly. That principal balance will diminish rapidly as your net worth increases. No need to worry about getting a good ROI on your house. With a 15-year mortgage, you'll gain equity fast! 
Opens You Up to Bigger Opportunities 
If you're not locked into those high mortgage payments for the next 30-years, you have a much greater capacity to take advantage of big opportunities. When you're attacking your consumer debt and paying off your mortgage, you're not ready for the risk of big financial opportunities.
However, with a 15-year mortgage, you can soon be rid of big monthly payments, which will allow you to take a leap into something big. Of course, discuss any huge or potentially risky money moves with your financial coach regardless of your mortgage status. Coaches like me can confirm you can afford the risk! 
Other Mortgage Options to Avoid
A 15-year fixed rate mortgage is by far the best mortgage option. It's not just better than a 30-year though, but better than lots of other loan choices. Be aware of other mortgage options you should avoid:
Adjustable Rate Mortgages 
Adjustable rate mortgages are getting way too popular. I just cringe every time I see them promoted—especially in this unstable market! Essentially, with an adjustable rate mortgage, your interest rate fluctuates with the market. You could be paying 4% interest for a few years, and paying 7% another. You see the issue?
This is an unnecessary risk that could cost you big time. We never know what will happen with the market in the next 15-30 years. (Hello, did anyone see a global pandemic coming?) You don't want to put this type of faith in the future. 
And, even if the mortgage rate DOES drop significantly, you can always refinance with a fixed-rate and achieve a lower interest payment. So, how would an adjustable rate mortgage benefit you? It wouldn't. It only benefits lenders. Opt for a fixed-rate! 
USDA and FHA Government Loans
FHA and USDA loans are meant to help lower-income people achieve their homeownership goals. This feels generous in theory, but if someone can't afford a house, making them think they can through lower down payment requirements is not helping them. It's setting them up for future financial ruin! 
Your payments may be lower monthly, but without a down payment, you'll pay significantly more for your home. This is especially true if you go with the 30-year option! Plus, with these types of loans, you need private mortgage insurance, which further increases your mortgage cost. After so many years of paying on a house they couldn't afford in the first place, many FHA and USDA borrowers find themselves trapped and house poor. 
VA Loans
VA loans are also government backed, and they're specifically for current and past military service members to achieve homeownership with low incomes or bad credit. Though they have no minimum down payment, no private mortgage insurance, and competitive interest rates, VA loans still cost borrowers who can't afford homeownership a TON of extra money. 
Without a down payment, you'll spend a LOT more on your loan, and you'll be paying interest for what seems like forever. That's not the only place they get you! VA loans have a "funding fee" that's between 1.4% – 3.6%. You'll have to pay that throughout your loan or at the end of your term. So, all that savings from no down payment and a long term? Yep, it doesn't actually save you anything! 
Interest-Only Mortgages
Interest-only mortgages mean you pay only interest for a certain amount of time. Again, this might seem like an affordable alternative, but years and years without paying anything on your principal balance costs you a lot more in the long run, and you won't gain any significant equity for decades!
Balloon Mortgages
For this mortgage option, you start out with a low payment similar to a 30-year mortgage. Then, at the end of a set term, you have to pay the rest of the loan amount. This one is bad for obvious reasons. If you're banking on a big inheritance, huge growth in your business, or a lottery win to pay off that loan amount in seven years, you are treading in dangerous territory! 
Big changes in your financial situation could make that incoming payment impossible. You don't want that risk hanging over your head! Like other mortgages on this list, steer clear of this one at all costs! (Or, it'll cost you.)
Piggyback Loans
These mortgages are also called an 80/10/10 loan, and they're more complicated than what they're worth. Essentially, you have two different loans. One is for 80% of the home price and the other is for 10%. Your down payment is the remaining 10%.
With this loan option, you don't have to pay private mortgage insurance, which is why people do it. However, you have to pay principal on two loans, pay interest on two loans, AND pay closing on two loans. Does this really sound like a good money-saving plan? No way.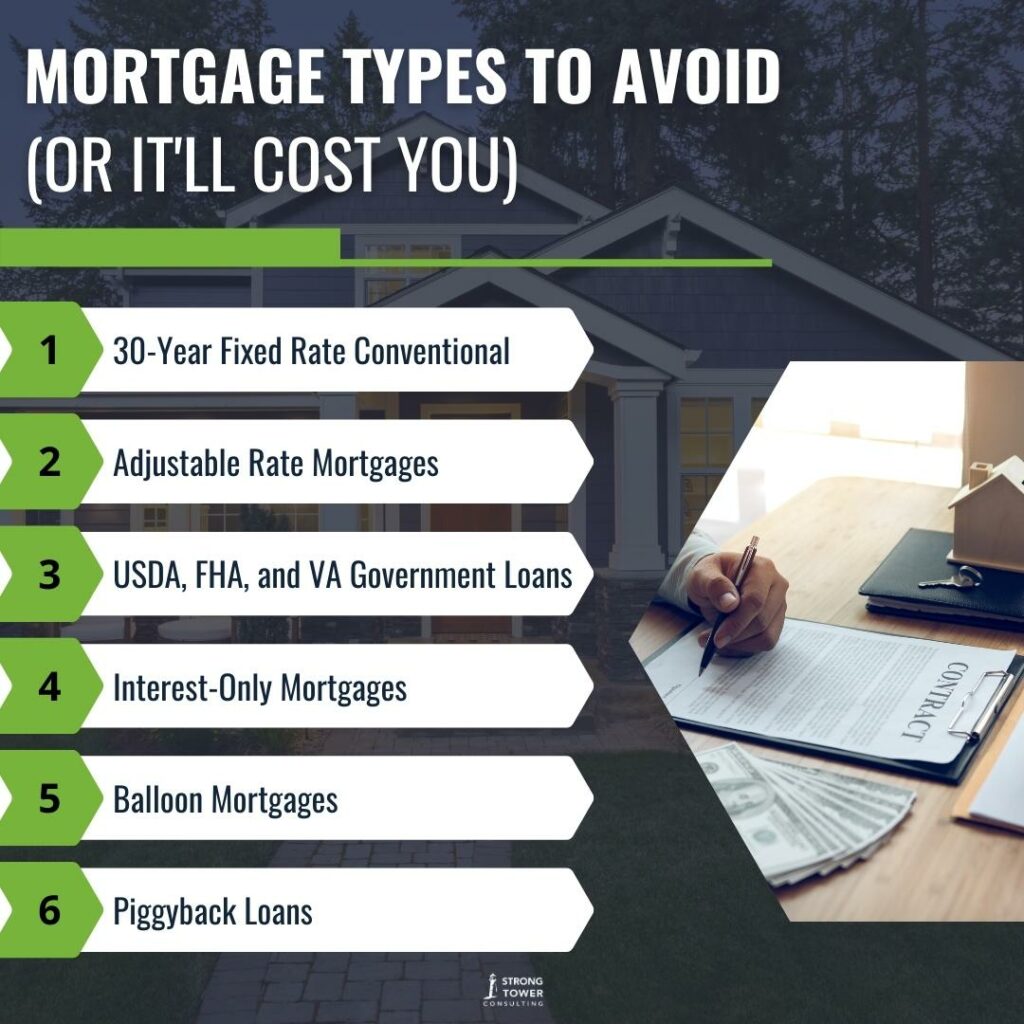 15-year fixed-rate mortgages are the best mortgage options for your upcoming home purchase!
If you want a safe home loan that won't cost you your financial future, a 15-year fixed rate mortgage is the only way to go. You'll know you can afford the payments, you won't pay much interest, and you'll be financially free of the burden of a mortgage in less than 20 years. That's amazing! 
If you no longer had a monthly mortgage payment, what would you do with that money instead? Let me know in the comments, and get excited about the possibilities. And, if you're already in a 30-year conventional loan, don't stress! You can refinance into a 15-year mortgage and launch yourself toward financial peace!