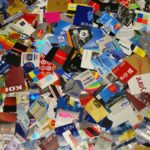 Last week I hit the 100 mark in cut up credit cards by clients this year. I have to date over 300 credit cards cut up since we began this crusade (You can see a video of John cutting up seven credit cards here.).  Every once in a while it is important to mark achievements.  However this blog is more than about marking achievements.
It is about making a commitment. 
Famous author and speaker John Maxwell writes in one of his best selling books, "The 21 Indispensable Qualities of a Leader" that there are four types of people when it comes to commitments.
Cop-Outs
Holdouts
Dropouts
All-Outs
What do these types of people look like financially?  Let's review.
Cop-Outs – These are the people that have no goals and have no plans on ever having goals.
Holdouts – These are the people that have read a book or went to a class on personal finance, but are going to wait and see how everyone else comes out before making any commitments.  It sounds too good to be true to be debt free and more than likely will not work in my life.
Dropouts – These are the people who read a financial book or went to a class on personal finance and started down the road towards financial freedom.  However, at the first or second sign of trouble (example:  car break down or a house repair), they bail on their plans at getting control over their money
All-Outs – These are the people that draw a line in the sand and say, "I have had it."  I am tired of being broke and I am going to do whatever it takes no matter what obstacles I have to face in order to meet my goals.
In one of my classes I was facilitating last year there was a couple that came to me and told me that they had been half heartedly doing the right things with their personal finances and were getting nowhere.  They realized that they needed to go "All-Out" and commit with everything they had.   Guess what?  Right away they were able to put money in the bank and begin to pay off their debt.
However, during one of our sessions together, I asked them how everything was going.  They told me they were living tight again.  I was a bit shocked and asked them why.  The wife's father all of a sudden became critically ill.  They traveled a lot to visit him and he lived twelve hours away.  With that new reality in their life they were budgeting more for fuel, food and lodging.  They shared with me that even though things were tight, they were doing everything with cash and WOULD NOT put any of their expenses on a credit card.  Why?  They had made a commitment not to use credit cards ever again.  Sticking to this commitment during this season of life was difficult; however it was worth it so they would not go any further into credit card debt.
I will never forget two weeks later sharing that story with another couple.  That couple shared with me that when their dad was critically ill, they did put all of those expenses on a credit card and regretted ever doing that.  The expenses of that stressful time haunted them much longer than the emergency lasted.
The moral of the story is that if you want to win at life and money you need to make commitments.  Then after you have made your commitments, you will be tested to see if you are willing to hold your ground.  Are you ready to go  ALL-OUT?
If you are having trouble being committed at taking control of your money and need someone to hold you accountable, click here and sign-up for a FREE 30 minute consultation today.