25+ Ways to Have a Budget-Friendly Christmas
One of the hardest times of year to stay on budget is definitely Christmas. The holiday is all about spending time with families, giving to others, and having a grateful attitude. Unfortunately, a lot of the Christmas festivities mean shelling out a lot of your hard-earned cash, too. Transportation, food, decor, and gifts are all significant expenses that tank your budget. 
When we go over budget, we get stressed. SUPER STRESSED. Sometimes, it prevents us from enjoying our holiday at all. If that's the case, what's the point of spending all the money? However, if you don't spend ANY money, will you ruin the spirit of Christmas? 
The short answer is no. But, how do you have a budget friendly Christmas that's full of joy, thankfulness, and giving—AND doesn't break the bank? I've dedicated my post to that very topic today. Here's over 25 ways to keep the budget low and the spirits bright:
25+ Ways to Have a Budget Friendly Christmas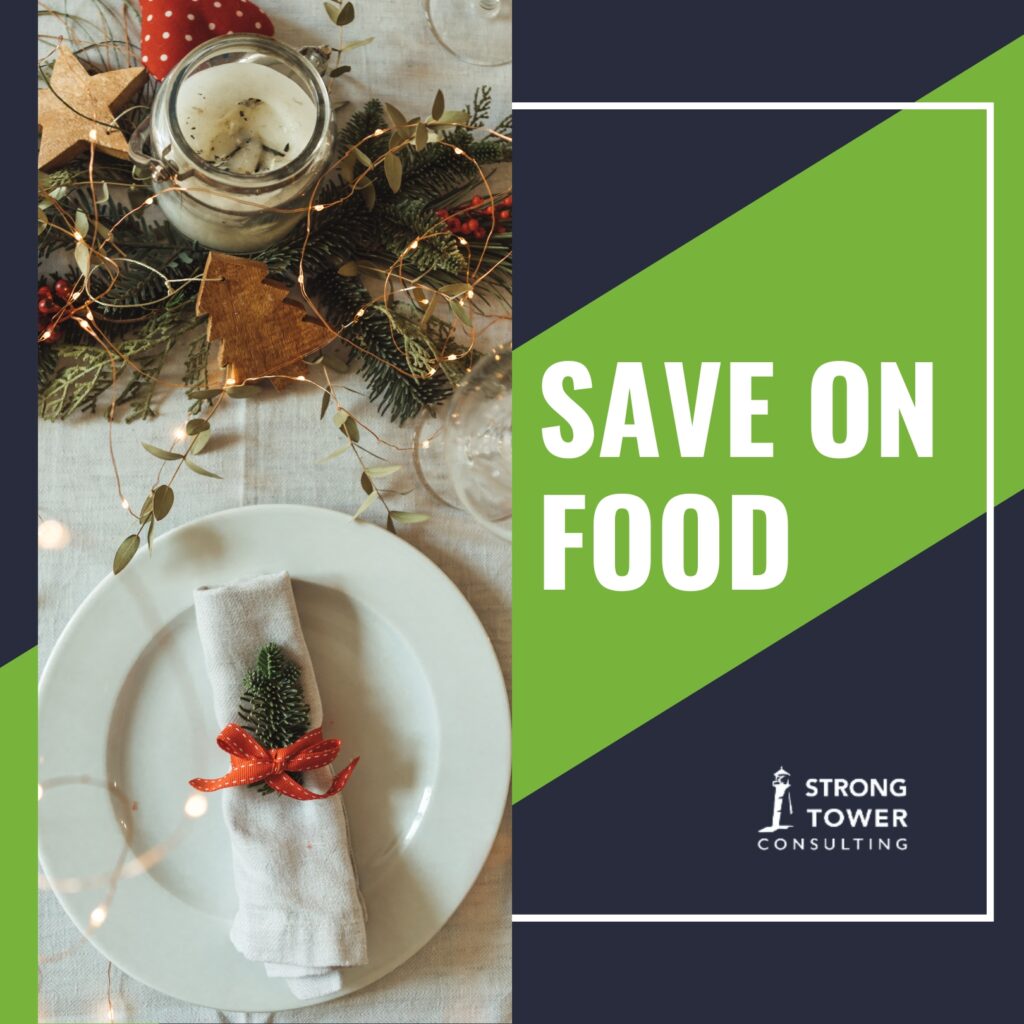 Food
Have a potluck meal with friends or family.
If you really love hosting, don't cancel all your family gatherings this year to save money! Instead, offer to host, but coordinate a potluck-style meal. This way, you're not paying to feed all the guests. Everyone brings a little something, so it's not too much of a time or money commitment for any one person. 
Use what you have in the pantry, but bake something special. 
When we think about Christmas dinner, something specific probably comes to mind. Maybe it's a ham? Maybe a goose? Or, do you think of classic Midwestern green bean casserole? Whatever ideas you have rolling around in your head, toss them out! There's no rule that says you can't have a really special Christmas eating breakfast for supper or homemade pizza. 
Cook what you can with what you have in the freezer, and then bake something specific for Christmas! Usually, baking recipes aren't too expensive to make. You might even have all the ingredients at home. However, splurge a little bit on decorations and accents to make sure dessert screams (I mean, carols) Christmas. 
Plan in-advance and wait for sales.
If you do want to go for the big meal, that's okay too. Make a plan for what you want to make at least a month in-advance. Then, keep an eye out for sales! This time of year you'll see sales on holiday meal ingredients. (And, don't expect to serve poultry this year with the bird flu.. Chicken, turkey, and goose are going to be expensive!) Over the course of the month, you can assemble all that you need for Christmas dinner at a fraction of the cost!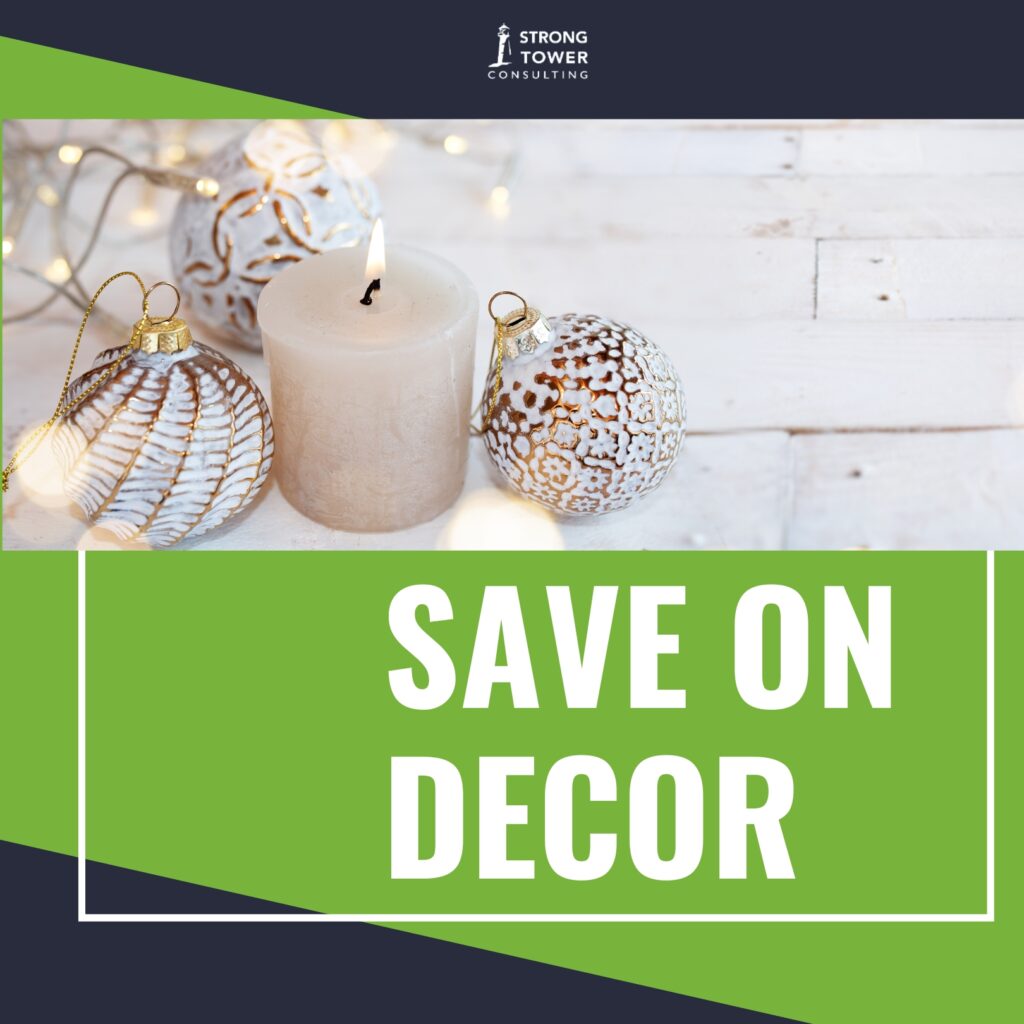 Decor
DIY Christmas decor with inexpensive craft supplies.
If you love to fill your home with Christmas cheer, but you're on a budget, walk right past the holiday decorations aisle. There are way too many tempting, overpriced items in there! Instead, use inexpensive craft supplies and items you already have around the house to make beautiful Christmas decor. Here are just a few ideas:
Mason Jar Candles Holders:

Have mason jars lying around? Grab jars of any size, buy some tea light candles, and decorate! Use ribbon, twine, faux flowers, fake snow, burlap, cinnamon sticks—even pinecones from the yard! Get creative for a DIY decor masterpiece.
Glass Container Centerpieces:

If you have a glass bowl or vase, fill it with festive items for an instant centerpiece. Use ornaments, pine cones, candy, tissues paper, or whatever else you have around the house or can get cheaply!
Giant Craft Stick Snowflakes:

Popsicle sticks are super cheap. Get a huge box of sticks, paint them your desired color, and then go nuts designing huge snowflakes that you can then hang on the wall. They're easy, inexpensive, and don't look tacky! 
Christmas Card Tree:

Do you get sent dozens of Christmas cards every year? I know my family does. Think of these as free decor! Take pieces of garland and hang them horizontally on the wall to create the vague outline of a tree. Put a star on the top of your "tree." Then, as each card comes in, hang it below the garland like they're ornaments. By the middle of December, you'll have a full card tree! 
Canvas Christmas Gifts:

Take old wall art you don't use anymore or buy a couple canvas. Then, gift wrap them, add bows and ribbons, and hang them back on the wall. Floating Christmas gifts create a memorable holiday moment! 
Make sentimental decor with the kids. 
Holiday decorations don't need to be polished and stylish. After all, Christmas is all about family! So, instead of worrying about creating holiday decor that rivals Christmas at the White House, make decorations with your children. They won't be refined and upscale, but they'll hold memories and moments you'll never forget!
Just get some construction paper, markers, glue sticks, and glitter. Then, let the kids go nuts! Watch the joy on their faces as they hang their decorations on the tree or present their homemade centerpiece to every visitor.
Shop at discount stores. 
If you're not crafty, don't worry. Me neither. That's my wife's department! However, you can get inexpensive holiday decor at the dollar store! You'd be surprised at the quality Christmas decorations you can get for under $20! Set a budget, get what you like, and remember that a little goes a long way. 
Purchase holiday decor just after the holidays. 
This one takes some planning, but a great way to save on holiday decor is to buy it in advance. Just after Christmas this year, purchase your decorations you'll use next year. You'll find all sorts of great decor for half off or more!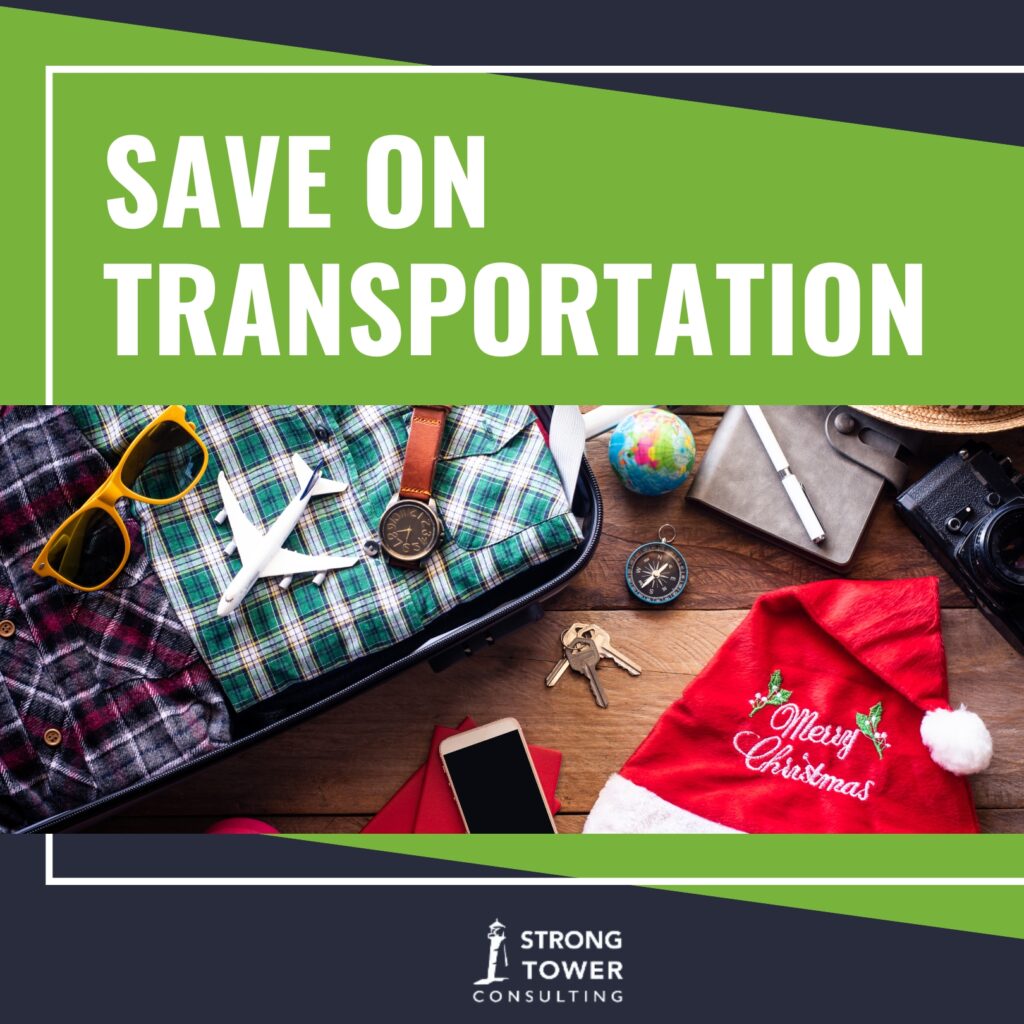 Transportations 
Say no to abounding Christmas commitments.
Do you have a million Christmas parties to attend on top of holiday concerts, school programs, and church caroling? It's totally overwhelming, and it can be super expensive. Traveling to each destination to hit every event will send you way over on your gas budget. 
I know it's hard, but consider saying no to some commitments. There will be those who are offended, yes, but what you'll gain is worth the drama. You'll be able to enjoy the things you do go to more since you don't have the stress of finances and a super busy schedule. 
Video chat instead of physically attending. 
If you're feeling really guilty about not hitting every holiday commitment, ask if you can video in for important moments. During gifts, dinner, or the after party drinks, jump on and video chat with your family and friends. You can wish everyone well and have some part in the event without the expense of travel! It's a win-win. 
Carpool with others heading that way. 
Do you have other family or friends heading to the same party? Consider carpooling and splitting the cost of gas! This is a tried-and-true method of saving money on transportation. 
Pack light and fly on cheap airlines.
If you have to fly to reach your family this season, grab your tickets in-advance and choose inexpensive airlines. Yes, I am talking about Frontier, Allegiant, and Spirit airlines. I know they're anything but first-class, but the savings you gain in exchange for a few hours of discomfort is well worth it. 
On top of grabbing a cheap ticket, travel with only a carry-on! And, if the airline charges for carry-on, just go with a personal item. With some planning, you can pack super light and save a ton on your air travel. 
Ship the packages directly to the receiver. 
If you travel light, where do you put the gifts? Fair question! Instead of taking the gifts with you, purchase them online and ship them directly to your destination. Obviously, ask the receiver to keep the package closed until the party. Hopefully, you don't have a peeker in your family! 
Bring your own snacks and drinks. 
Whether you're traveling by car or plane, snacks and drinks really add up! Stopping at gas stations or buying food at the gate is pricey. Bring your own snacks and drinks (an empty water bottle at the airport), so you don't have the temptation to buy anything on the way. 
Look into bus and train rides. 
Buses and trains are still around, and it's usually cheaper than paying for gas or a plane ticket. Look into these options, and see if it's practical for your trip! Heck, the kids might even think it's fun to ride on a real train!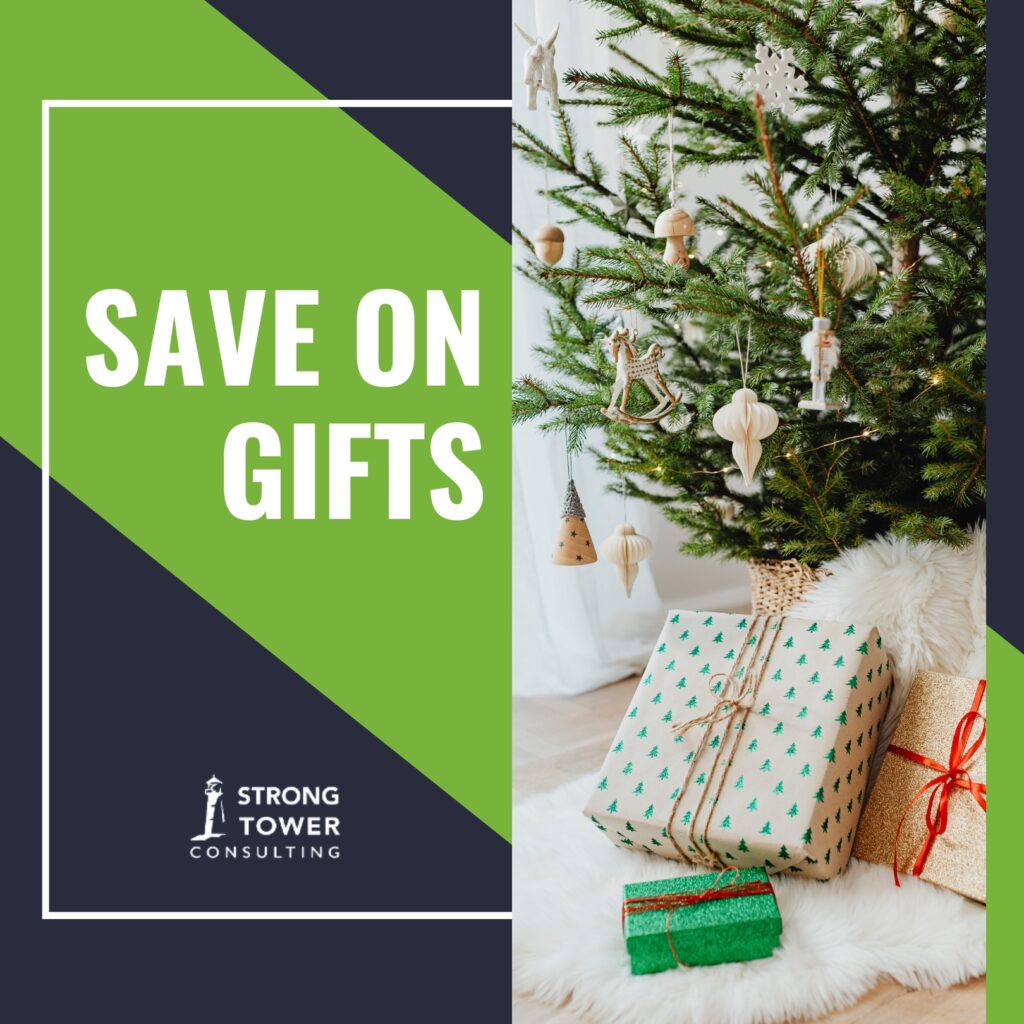 Gifts
Oh, Christmas gifts . . . this is where we all struggle. Time and time again, clients tell me: "Justin, I blew the budget on gifts." Guys, I get it. It's SO tempting at this time of year to buy, buy, buy. You want those you love to know you love them with your thoughtful gift. But, thoughtful doesn't have to mean expensive. Here are some ideas on how to save money on gifts:
Make a list and set a budget. 
If you're used to going into Black Friday blind and hoping you can keep track of your spending in your head, tell yourself "no more!" Instead, make a list of gift ideas and set a budget. Go over your list again and again and make a plan for what you'll buy. And, each time you head to the store, know what you're going to purchase before you even walk in. (Only bring cash!) 
Focus on those that matter. 
When gift giving is your love language, it's easy to want to get gifts for EVERYONE. The kids' teachers. Your pastor. All of your friends. Your favorite neighbors. That super helpful clerk at the grocery store. But, stop the madness! Focus on those who matter most.
Get your kids' gifts. Get your family gifts. And, everyone else can get a thoughtful card. If you really want to get a gift, consider something handmade. Though these extra people would appreciate a gift, they're not expecting one. Don't find the need to blow your budget on those outside your immediate family and closest friends. 
Understand the power of a handwritten card. 
No one does snail mail anymore. And, when you do get a card, the sender usually just signs the bottom, basically confirming they agree with the quote printed on the card. When was the last time you received a really thoughtful card? One where the giver wrote a personal letter to you inside? 
Even if it was a long time ago, I bet you still have the card! Why? Because, something like that has an impact that's bigger than a gift! The best part is, giving a handwritten card takes a lot of time, but not a lot of cash. It's a great way to keep in the spirit of giving without breaking the bank.
Get creative and make something!
Hand making gifts saves a lot! The materials to make something special don't cost nearly as much as buying the completed gift. Plus, handmade gifts have another layer of thoughtfulness that your friends and family will love. 
Take some time browsing Pinterest for the perfect craft that's in your skill set. If you already have a talent like knitting, painting, or woodworking, try a handmade gift that uses that skill! 
Jar up a baking mix. 
Even if you're not crafty, you can do this one. Everyone loves baked goods, but not everyone loves the effort and mess of putting it all together. You can do the work for them! Get a jar, and layer it with the necessary dry ingredients to make a delicious dessert. Once you've layered it all in, screw on the lid, decorate the jar, and add a tag with the baking directions. It's thoughtful, easy, and inexpensive. 
Offer tasks that take time instead of money.
What about offering services for Christmas this year? If you have more time than cash, consider giving those close to you coupons for house cleaning, a home cooked meal, babysitting, massages, and anything else you can think of! This won't cost you anything but a few hours. 
Make them a custom playlist.
Remember when we used to make mixtapes? That used to take some real effort! Now, it's a little easier, but no less thoughtful. Open up Spotify and make the perfect curated playlist for your loved one. Maybe they have a long drive home after the holidays? Make the playlist the exact duration of their drive for something really fun. 
Write and print a homemade cookbook. 
Are you full of fantastic recipes? Consider typing them all out in a program like Canva. Use a cookbook template, write in your recipes, and hit print! Put it in a decorated 3-ring binder for a practical and inexpensive gift that the receiver will use for years and years! 
Purchase an inexpensive photo gift. 
One of my favorite gifts was a framed photo of my dad and Johnny Cash that my wife gave me. It was the Christmas where we had to tighten the reins the most, but her thoughtful gift is one I'll cherish forever! 
Photos mean a lot to people. You could give a simple framed photo, or you could purchase other inexpensive photo gifts. Photos can go in a collage, on a pillow, on a canvas, or even on a t-shirt!
Bake something. 
Chances are, you have everything you need in your pantry right now to bake something really magical. Even if you're missing a few ingredients, the price won't break the budget! Make baked goods for an inexpensive gift that will definitely get used! (Well, consumed.) 
Go mini! 
If you really want to give something traditionally material, go for mini versions of the gift you want to give! Instead of a full bottle of quality lotion, get a mini one. Instead of a necklace with a huge pendant, get something dainty yet beautiful. Or, instead of the entire grilling kit, get just the hamburger turner! 
Don't think it's all or nothing. Your guests will appreciate the sample size! They won't even know you were dying to get them the super-sized version. If you're overwhelmed by your gift ideas list, think how you can still give that gift, but shrink it down. 
Get used. 
There is nothing wrong with buying used gifts. There is plenty at your local thrift store or on the Facebook Marketplace that looks BRAND NEW. If you have something in mind to get your loved one, but it's too expensive, see if you can get it used! 
Think about something personal over something expensive. 
Has someone you worked with ever noticed you get the same snack at the vending machine every day, so they bought that snack for you one day at break time? When something like this happens, it feels super special, because someone had to pay attention to know what you like. Even though it only cost a couple dollars, it's so thoughtful! 
Think like that. How can you give the person you love something super personal that's not expensive? Maybe they always use a specific type of pen. Maybe they're always chewing the same type of gum. Or, maybe their hair is always tied back in a scrunchie. Whatever that thing is that you've noticed. Get that as your gift! They'll really appreciate something so personal! 
Having a great Christmas that's budget-friendly is totally possible!
If you're stressed about Christmas this year, take a deep breath. You can do this! With some strategy, you can stay on budget this Christmas and still participate in the holiday festivities. But, if you're still overwhelmed, I can help. I'm a financial coach that's ready to guide you through all your money woes. Just follow this link for a free session! We can get back on track and lead you to financial peace.