So many of us have done it: Opened a credit card and told yourself, "I'll pay it off every month and benefit from the rewards!" It seems like the perfect plan. Plus, the Internet tells us we MUST have a good credit score to get a house. So, really, getting a credit card is a responsible step toward your financial goals. Right? WRONG.
The truth about credit cards is not nearly as glamorous as American Express and Discover ads lead you to believe. The average American has $6,569 in credit card debt across 3-4 cards, which stems partially from that 16% – 22% interest rate. And, as far as paying the card off every cycle, 46% of people carry a balance on their credit card from month-to-month. 
If all that wasn't enough, people are much more likely to overspend with a credit card. What lenders call "spending power" is really "spending prison." But, I don't have to tell you all that. 
Chances are, you're in the same boat as millions of Americans with a credit card racking up debt and interest every month. And, even if you DO pay off your card every month, these statistics should scare you. I challenge you all to cut-up those credit cards, and here's why: 
Why You Should Cut-Up Your Credit Cards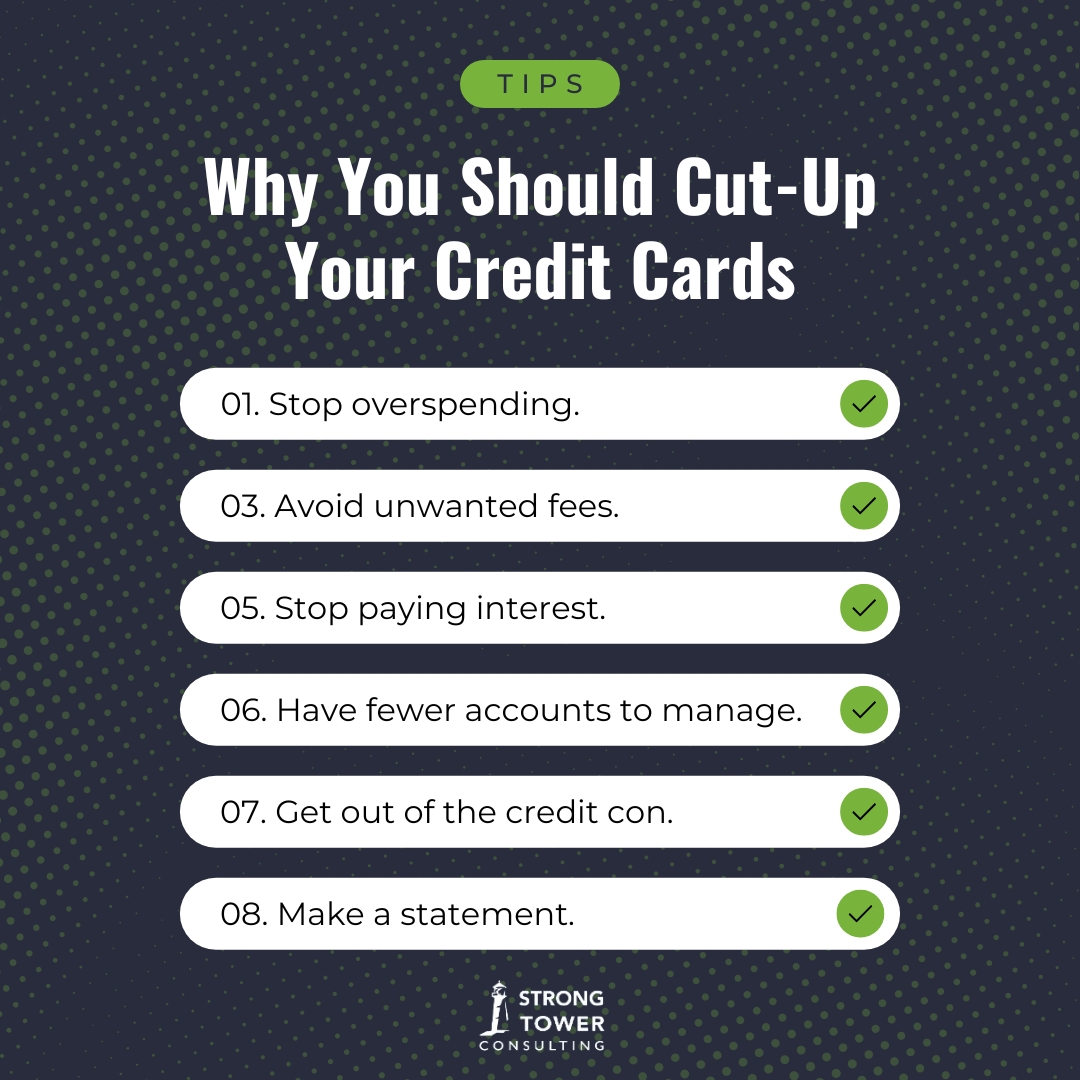 Stop overspending.
Some of you might be thinking, "Justin! Get with the times. EVERYONE pays with credit cards." But, did you know that people spend 12% – 18% more when they use a card? If that doesn't hit you, consider this: 
An MIT economist found that cities with tolls increased their prices considerably when they installed automatic collection systems and credit card machines. This is because people don't feel transactions with cards like they do with paper. When you have a credit card, you spend more. Getting rid of your credit card will help you stay on budget and better consider each transaction. 
Plus, a credit card gives you permission to buy things you can't afford in the first place. In fact, credit card companies ENCOURAGE you buy things you can't afford. "Just make payments on it" or "use credit while you wait for payday." Guys, so many people get caught in a trap this way. They end up with tons of stuff they can't afford, and a lot of it is non-essential and just frivolous. Years later, they're crying over their finances on a couch they're still making payments on. At this point, they've paid for it twice over with the card's high interest. Yikes!
But, what about emergencies? Those big expenses you can't afford but you must pay for? Maybe you suddenly have a $800 car repair bill or a $5k furnace replacement cost. Friends, you'll have to get creative. Without a credit card, you take debt off the table. Instead, you work hard, sell stuff, barter services—whatever you have to without becoming a slave to the lender. It's possible, and you'll be grateful you buckled down and paid for it with cash instead of credit.
Avoid unwanted fees. 
Most credit cards have a TON of fees and extra charges beyond what you swipe. Annual fees, late payment fees, foreign transaction fees, balance transfer fees, cash advance fees, over-the-limit fees, and returned payment fees are just a few that'll send your monthly bill through the roof. Without credit cards, you won't get slammed by all these unfair charges. 
Stop paying interest. 
Speaking of unwanted charges . . . interest is the ultimate unwanted charge. There is nothing more disheartening than looking at your credit card bill and finding that the high monthly payment barely touches the principal. 
Instead, almost all of the money is going to interest. This can prolong paying off your card and sometimes make it impossible for you to catch up up. It's madness! 
When you take debt off the tables, you take interest off the table too. No more unethical, high charges for holding accounts. No more spending 3x as much on that flat screen you just "had to have" because the interest has tripled the original price. Stop paying interest and cut-up those cards. 
Have fewer accounts to manage. 
You've got enough to worry about. The more accounts and monthly bills you have, the more you have to manage and stress over. Take something off your plate by closing credit accounts that do nothing but hurt you! 
Get out of the credit con.
"Spending power." Ugh. What a gross phrase. "Spending power" is just the credit card company's way of manipulating you into spending more and getting deeper in debt. Remember, they only make money when you don't pay off your full balance. 
So, do you think they're on your side? No way. They want you to get in a bind, spend a bunch, and pay them interest for the rest of your life. And, if you're someone who pays their card off every month and benefits from the points and rewards, remember who pays for those benefits. 
It comes from the single mom who put four months of rent on her Discover card and couldn't pay it back before interest crippled her finances. It comes from the elderly man who put his wife's medical bills on a card, but couldn't pay off the balance while he took off work to care for her. 
It's a scam. It's an ugly scam. Cut-up your cards and stop participating in this unethical business. Get out of the con and run toward financial freedom. 
Make a statement. 
When you cut-up your credit cards, make it public. The statement will inspire others to start their own debt free journey. Plus, it'll spur lots of questions about the perceived benefits of credit cards. 
You can tell them you don't need a credit card to get a house or apartment. You can tell them how even though they get rewards, it doesn't outweigh how much they've overspent. Tell them your testimony and help others take the step. Here are some of my clients who took the plunge and cut-up those cards: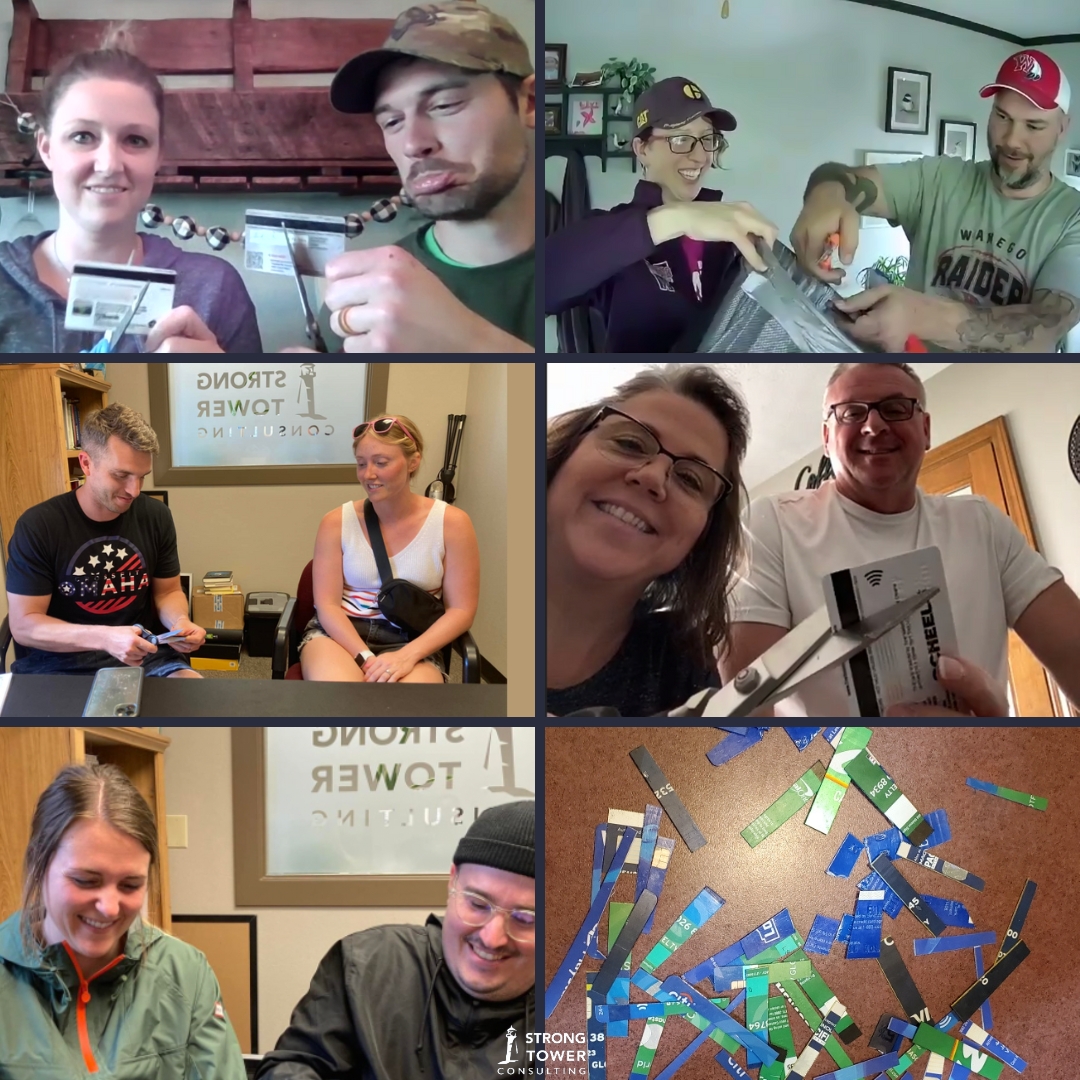 Cut-up your credit cards to break the cycle and become debt free. 
When you're trying to take control of your finances and get on a budget, credit cards will keep dragging you down. As long as you have the crutch of this so-called "safety net," you'll continue to fall victim to the con. You'll be off budget and paying TONS in interest and fees. 
Cut-up the credit cards right now! Shred them! Then, call and close the accounts. It'll be scary at first, but then it'll feel so good. And, it won't take long to see a significant difference in your financial picture. 
If you're looking for more financial tips and tricks, check out my blog. Every week, I share content that helps you gain peace with your money and TRUE "spending power." With a good budget, a written out plan, and the help of a financial coach like me, you'll achieve those big financial goals! And, you'll do it without debt. The right way. Let's do it!