10 Budget-Friendly Date Night Ideas for Money Savvy Couples
When you and your spouse (or significant other) are striving for financial freedom, vacations and date nights can get put on the back burner. This idea at its core isn't a bad thing. However, your relationship should never be put on the back burner! 
Studies have shown that couples who participate in date nights have better communication, more appreciation for one another, and a desire to be together more. When communication and these other things are better, aligning on financial goals is easier. So, you and your spouse will have more energy and passion for your gazelle intense journey! 
Speaking of gazelle intense . . . How the heck do you do date night when attacking baby steps 1 and 2? I know, I know, we've got to save money everywhere we can, but this is truly an investment into your financial unity. Let's just keep it budget-friendly! Here are 10 cheap date night ideas for you and your spouse: 
10 Budget-Friendly Date Night Ideas for Money Savvy Couples
Play board games. 
Board games! Man, I love board games. It's one of those rare things you enjoy as a kid AND as an adult. (Plus, it's nice to say "sorry" and it not be about your overspending.) Anyway, it's time to dust off the board games and have a game night. 
Pick something mindless, so you can have meaningful conversation. Or, pick something strategy-based for a playful competition. If neither of those is sounding enticing, grab something silly, so you laugh together all night. You'll find an evening of board games will keep you entertained for hours and for free! Doesn't get much better than that?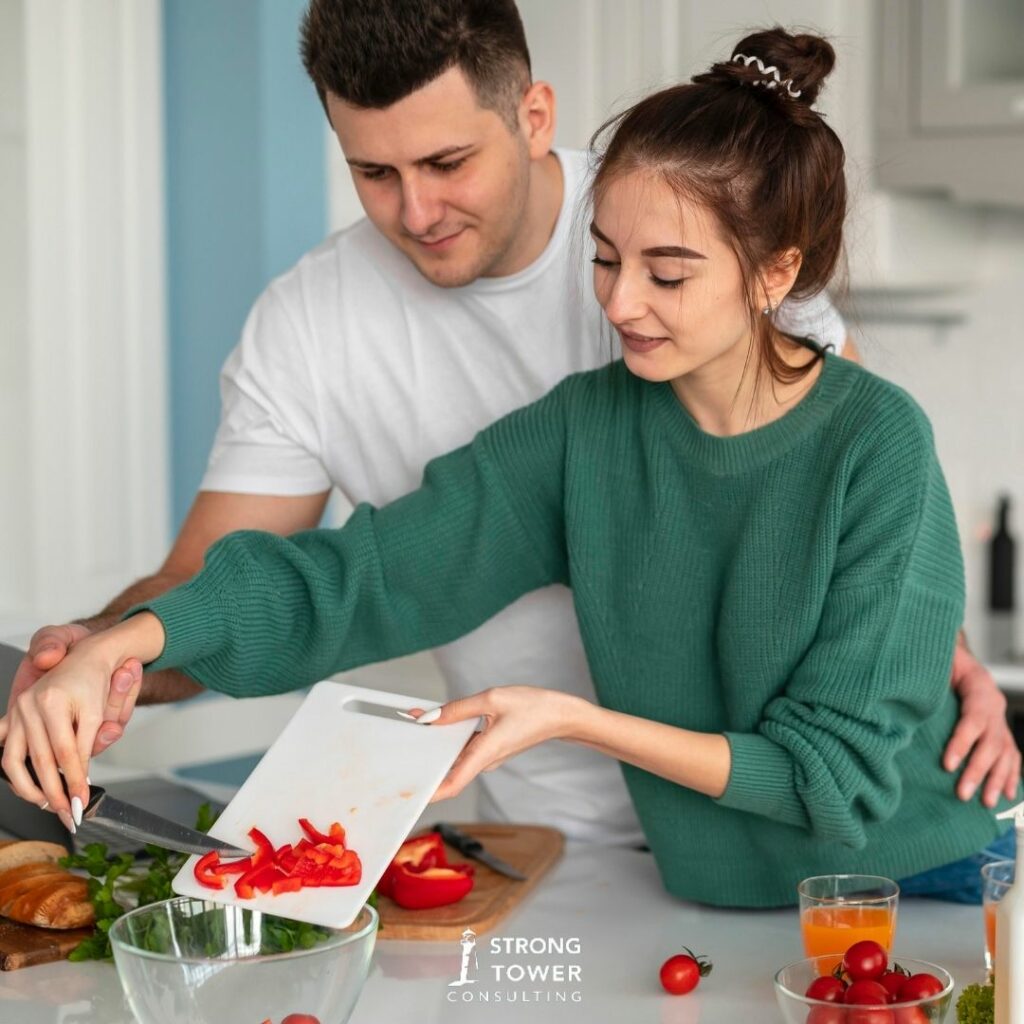 Have a bakeoff/cookoff!
Okay, we're all trying to save a little money on groceries. Those prices are wild. One way you can save money is using what's already in your pantry rather than letting those ingredients expire. On weeknights, though, creatively assembling a new meal out of the leftovers in your pantry or fridge doesn't sound appealing, but it's a great idea for a date night! 
Set it up like the TV show "Chopped." Each of you has to use items already in the house to cook or bake something delicious. To make it really exciting, set a timer! That'll make it high-intensity fun and totally hilarious. And, you know what the best part is? You get to eat the meal at the end and save money while doing it.
Take a picnic lunch somewhere pretty.
No matter where you live, there are pretty landscapes somewhere! Plus, as the seasons change, you can enjoy cooler weather and beautiful fall leaves. For a cheap date night, pack up a picnic lunch and pick a spot to sit and enjoy nature, conversation, and homemade food. 
If you want to splurge on an inexpensive bottle of wine or a special snack, go for it! This is about cheaper date night options. It doesn't have to be free. Just keep it as inexpensive as possible, because that'll keep the date stress-free. No buyer's remorse or financial anxiety allowed!
Opt for a treat over a meal. 
One of the hardest parts of baby steps 1 and 2 is driving by your favorite restaurant. For me? It was that sweet aroma of Chick-Fil-A chicken. Oh, I wanted to indulge so badly! I'm sure you have had a similar experience. 
Well, I will not tell you to break the budget on fast food or fine dining while working through these first couple of baby steps. However, you can get a taste of your favorite restaurants for a cheap date night. Just get a treat, rather than a whole meal! Grab dessert, a large fry, or an appetizer to share. Each of you select a treat, pick it up, and take it home to eat by candlelight. Romantic and indulgent!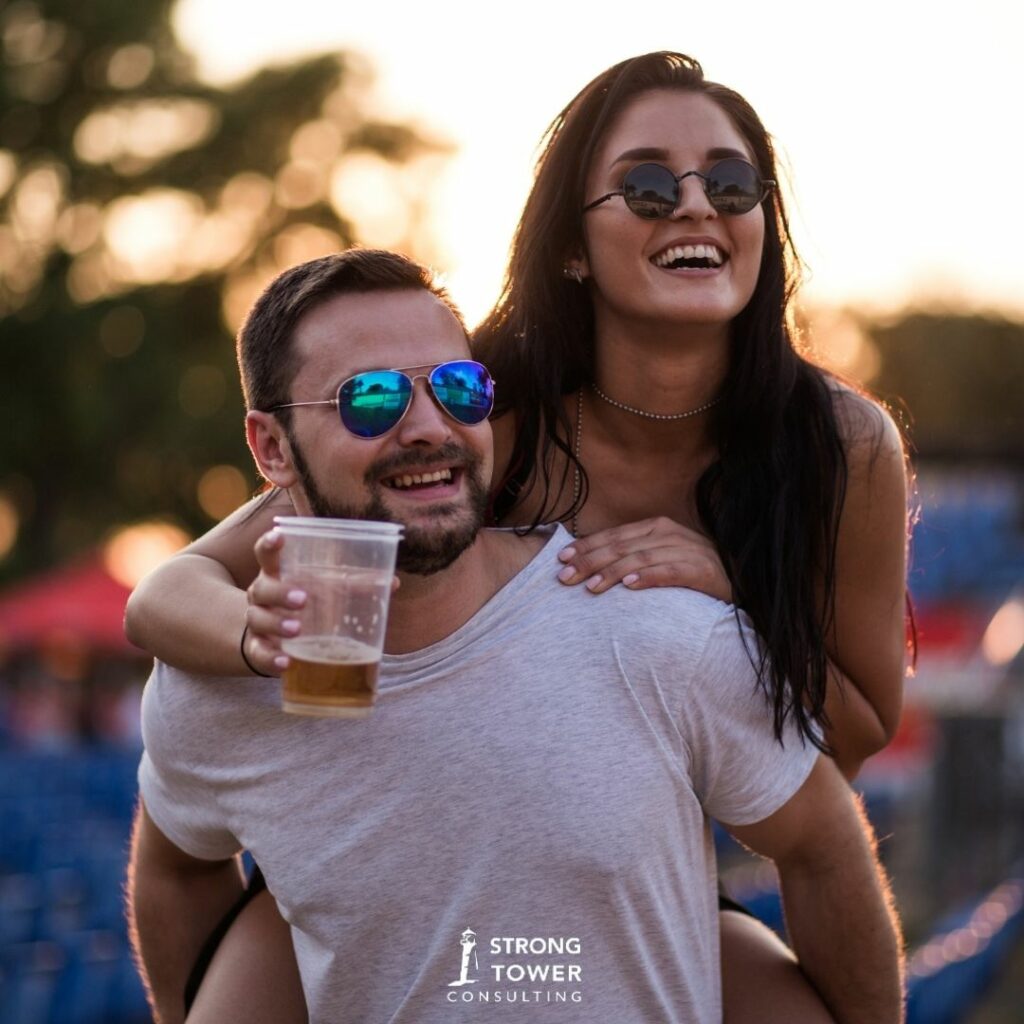 Find free events around your city. 
Free events happen all the time. You just need to look for them. Do a quick search online and you'll likely find festivals, live shows, and markets that have no charge for admission. You can go, enjoy the free entertainment, and feel you've gotten a real curated date night experience!
Just be careful to not overspend once you get inside. Bring a packed lunch, your own drinks, and cash if you do decide to make purchases. If you feel you might be tempted to break the budget, maybe pick a different event or location. 
Go hiking. 
Hiking trails are all over the country and all free! No matter where you are, there's a forest to hike through, a mountain to trek up, or a valley to journey down. This is a great way to reduce stress, connect with your spouse through conversation, and invest in your physical health. 
Plus, hiking is a great illustration of the journey you're on! Keep moving forward with your financial goals, even when it's tough. Soon, you'll reach the end and see your beautiful, peaceful future. Then, it's all downhill. (I mean that in a good way, of course.) 
Visit a museum, zoo, or gallery!
Museums, zoos, and art galleries usually have low admission fees, but offer a whole day of enjoyment. You can learn together, find new artists, or observe incredible wild animals. Even check for cheaper days of the week or times of the day! 
These are also good choices for all you free-spirits and spenders out there, because these venues offer few opportunities to impulse spend. They're not completely void of expensive concessions or high-priced souvenirs, but they're easier to navigate than other outings without overspending. 
Run errands together.
Does your wife do groceries? Does your husband handle the home improvement store trips? Here's an idea: Send the kids to grandma's and go together! Running errands together is a great way to spend quality time with your spouse talking and connecting while also completing necessary tasks. If "acts of service" is your love language, this is the perfect date! 
This one can also help with your financial journey, because you may gain insight into the money challenges of that errand. Your husband might realize how high prices have grown at the grocery store. Your wife might realize that repairing the toilet requires a few more parts than she imagined. 
Running errands together will give you appreciation and understanding of what the other person contributes to the household and the financial goals!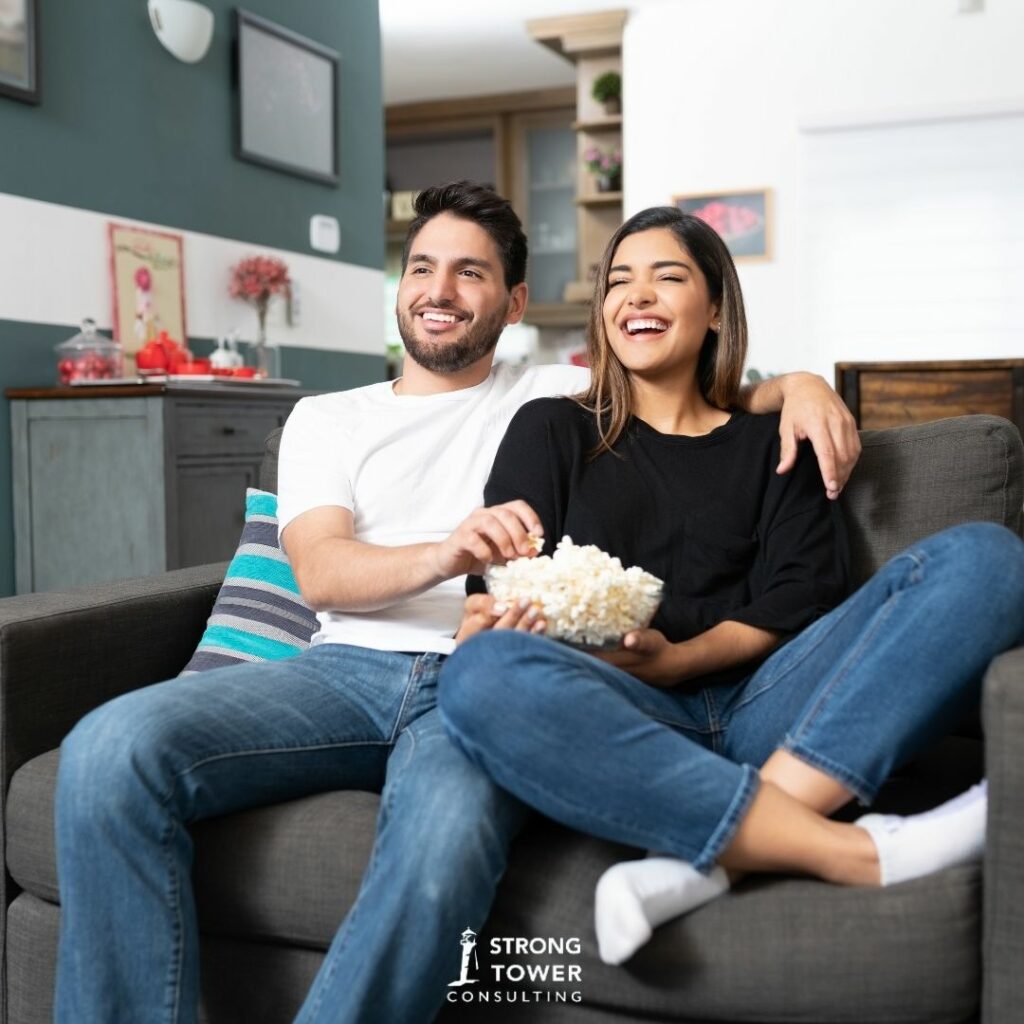 Stream a movie or TV show with snacks. (Don't forget the snacks!)
There is new content coming out every week on popular streaming sites, so whatever service you subscribe to will have plenty of options. Pick a movie or TV show, and head to the store for some snacks. Spend a small amount on some of your favorite treats. 
Then, head back to the house, build a blanket fort, and lounge while watching the TV show or movie. It's relaxing, low budget, and feeds your cravings!
Go swimming, bowling, or mini golfing.
Swimming, bowling, and mini golfing also don't cost much, but provide hours of entertainment. Additionally, these excursions allow lots of opportunities for conversation and joking around. Just remember to budget for any snacks you might get while there! If allowed, consider bringing your own refreshments.
You can live on a budget and enjoy regular date nights with your spouse as long as you keep it intentional and inexpensive. 
Date nights help you recharge for the week, refocus on your financial goals, and reconnect with your spouse. It's SO worth it! But, if this is totally confusing to you, because you're trying to cut out all the extra expenses and pay off debt, I get it. It's hard to know "what's allowed" without guidance. 
I recommend jumping in a free consultation with me! There, I can review your financial situation, give you tips for success, and work with you long-term to help you reach your goals. I've helped hundreds of couples in your exact financial situation. Yes, YOUR situation! There's nothing I haven't tackled. Let me help you and your spouse find financial freedom and peace in your life every day.