There are only a few moments in our lives when we're pressured to really spend big! We feel that pressure when we buy a home, go to college, and get married. Weddings have gotten outrageously expensive, with the average American spending almost $30,000 on their big day. WOW. 
If you're planning on getting married soon, I wouldn't be surprised if you had some sticker shock when looking at the prices of all the "essentials." However, there is no reason a wedding needs to cost tens of thousands of dollars. So, today, I'm sharing some tips for the perfect budget-friendly wedding. 
At the end of the day, you'll still be married whether you spend $100 – $100,000 on your wedding. And, regardless of the price of the dress or the prestige of the venue, the day will still be special. Here's how you can have a memorable day without breaking the bank: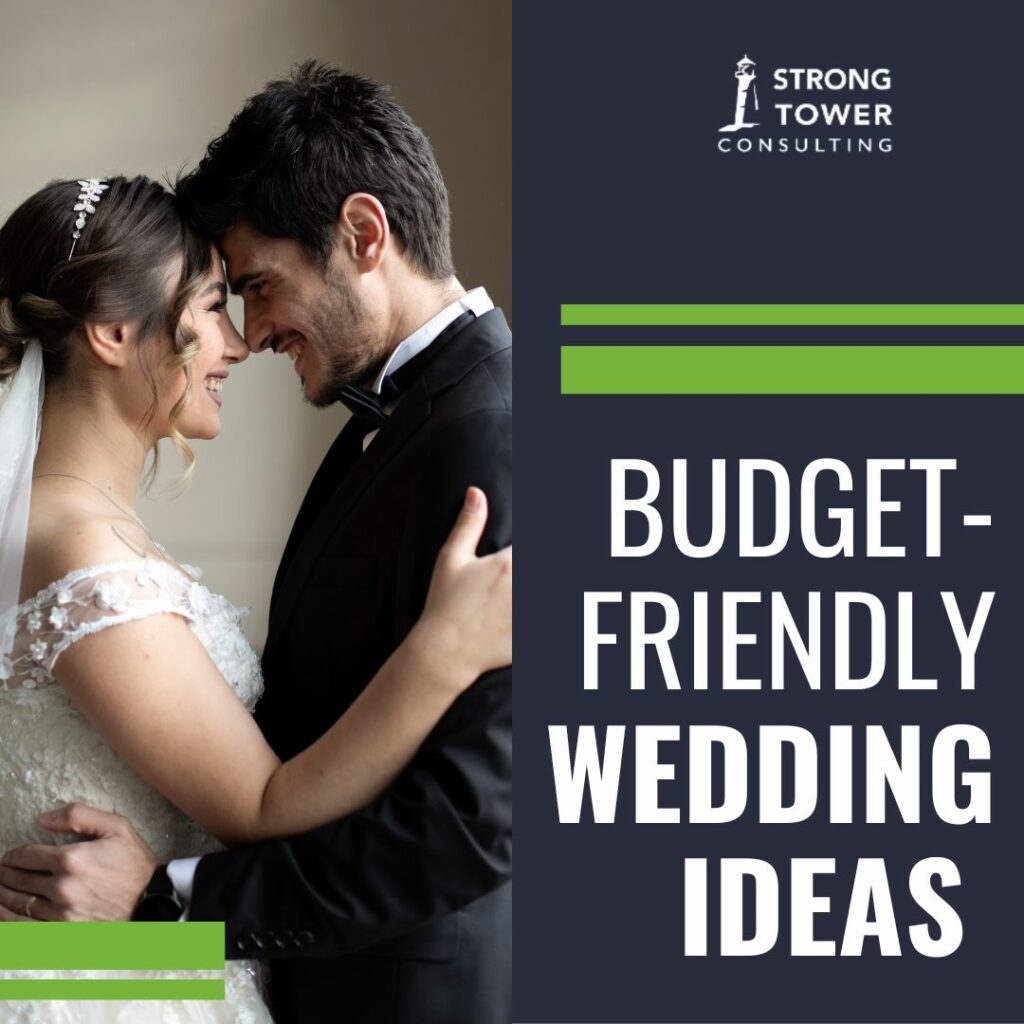 28 Budget-Friendly Wedding Ideas
Prioritize the things that mean the most to you.
First of all, you don't need to be looking at the lease expensive option for everything on the list. If there are one or two things that are really important to you, splurge there, and be conservative about the rest. This way, you can fulfill some of your big wants, but without going premium on everything from real flowers to a live band. So, keep that in mind when reading the rest of the post! 
Have an evening ceremony. 
Having a ceremony after 6:30 means you don't have to feed anyone. This can save a lot of money! A survey showed that the average wedding meal costs the couple $75 per guest. Cutting the meal could save you hundreds or even thousands! 
Get married on unpopular days and times of year.
People love to get married in the spring and fall on Saturdays. That means these are the most expensive times to get married. If you want to save on everything, get married on a Friday or Sunday and brave a winter ceremony. 
Don't do the open bar.
Open bars cost $15-$45 per guest. To save money, cut the hard liquor or skip the open bar all together. Pre-purchased beverages will quench your guest's thirst without breaking the bank. 
Shop for the dress in surprising places.
Even a budget bridal store will have pricey gowns. Before you try anything on, browse dresses in surprising places. Search Facebook Marketplace, Amazon, Etsy, thrift stores, and standard clothing stores for a white dress to wear on your big day. 
Don't overspend on accessories.
Whatever you choose for a dress, don't go overboard on accessories. Budget shoes, jewelry, and other extras look just as good at half the cost. As luxurious as you may want to feel on that day, real diamonds and designer shoes may not be in the cards! 
Skip the tux.
There really isn't a reason for all the men at your wedding to wear tuxedos or suits. Instead, opt for black pants, button-ups, and ties. It still looks professional, but it's much cheaper than the penguin suit! 
Cut the trendy traditions. 
Bridesmaid proposals. Fancy rehearsal dinners. Destination bachelorette or bachelor parties. You don't need any of it! Keep the whole process from engagement to honeymoon simple to save money—and don't do anything for the sake of "tradition."
Don't have a reception and dance.
A ceremony is more than enough to make your marriage official. You can cut the reception and dance if you want! If you are really bummed about the idea of not having a reception, try to incorporate some celebration opportunities into your ceremony. 
Make inexpensive DIY favors.
Wedding favors don't need to cost much. Get your friends and family together to make inexpensive favors like cookies, mini candles, origami flowers, tea bags, or hot chocolate kids. There is a lot you can do with a little! 
Send the guests home with only their memories.
Better yet, send the guest home without a favor. They had a great experience and probably got free food! They'll be happy heading home with just their memories. (After all, people don't hold on to wedding favors forever!)
Consider inexpensive or free venues.
Venues contribute to a significant amount of wedding debt—couples spend over $11,000 on average for a venue. WOW! Seek out free or inexpensive venues like a state park, a vacation home, a beach, a church, or even a friend's backyard!
Keep everything close to home.
A destination wedding might sound amazing, but it's very expensive for you and your guests. Not only do you have to travel there, but you have to transport ALL the wedding stuff there too. Plus, you'll need accommodations! The travel costs can be outrageous. Keep everything close to home, and instead set a goal vacation after you're debt free. (Here's more on how to get out of debt.) 
Cut the guest list—then cut it again.
Look at your guest list and cut people out. Then, give it another once-over and cut out even more people. The fewer guests, the cheaper the event! Don't be worried about those that might be offended. This day is about YOU, not them.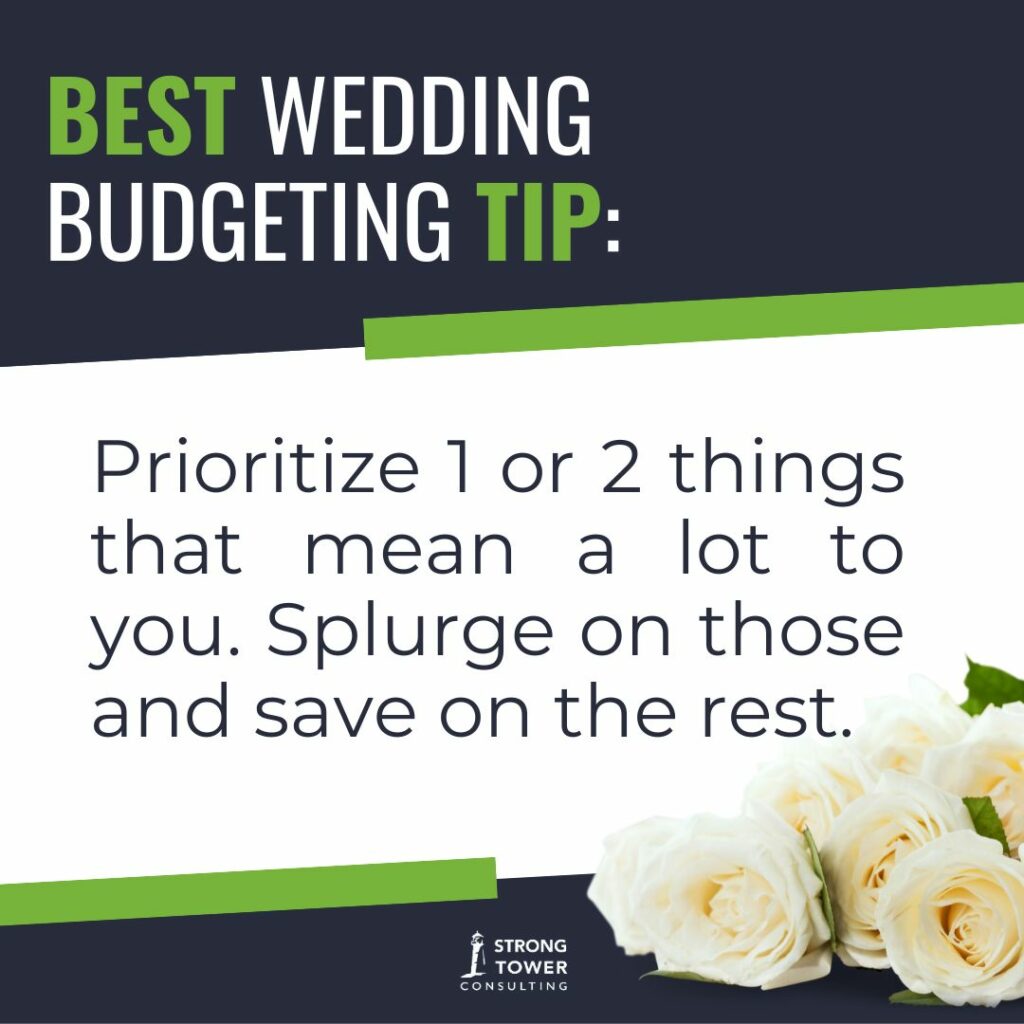 Have family help with the meal.
If you do decide to go with a meal, skip the caterer and see if friends and family are willing to help contribute to the food. Even if you buy all the ingredients and they help cook and serve, you can still save a lot! 
DIY your decor.
There are so many inexpensive ways to set the scene for your wedding. Instead of hiring a decorator or buying expensive decor, try to make your own. Mason jars, thrift store frames, chalkboard paint, burlap, fairy lights, candles, and other dollar store finds can make a romantic and upscale theme. 
Ask for money instead of gifts.
Instead of registering for a bunch of gifts, ask for money (tastefully, of course.) With cash, you can replenish any funds you used to pay for the wedding. That way, you start marriage with an emergency fund and zero wedding debt! 
Share decor with another wedding.
Know anyone else getting married soon? See if they'd be willing to share decor! You can split the cost and both can use the decorations. 
Repurpose as much as possible.
Look around your house. What could you use as decor? Vases, wall hangings, side tables, buffets, china, and more can be repurposed as wedding decorations. (Even ask family and friends if you can raid their houses for items.) 
Go with faux flowers or DIY options.
Fresh flowers are expensive. They usually cost couples between $750- $2,500. Faux flowers or DIY flowers can look just as beautiful and be half the hassle and cost. If you're not a fan of traditional fake flowers, fold origami flowers out of recycled paper or cut them out of wood. 
Hire family and friends.
Photographers, caterers, hairdressers, live bands, bakers, and more add a significant amount to the wedding bills. If you have friends or family members who do any of this professionally or recreationally, consider hiring them instead! 
Make your own playlist and have a friend DJ. 
DJs and bands are expensive—and they may not even play music you like. Make your own Spotify playlist and ask a friend or family member to DJ! Or, just roll the dice and let the shuffle feature decide what plays next. 
Have a friend do hair and make-up.
Instead of hiring a stylist and make-up artist, ask your bridesmaids if they can do their own hair and make-up. If not, see if you can find someone close to you that has a special talent for styling! Their rate will probably be much more budget-friendly than hiring a professional.
Choose another dessert over a wedding cake.
Anytime you add "wedding" to the name of something, it gets more expensive. This is true for the wedding cake too! If you're not married to the idea of a cake, consider cupcakes, cheesecakes, donuts, pies, or other tasty desserts. 
Take advantage of Costco or Sam's Club memberships.
Costco and Sam's Club don't always save you money, but when you really need to buy in bulk they can help. Instead of an open bar, fancy china, or expensive catered meal, get what you need at Costco or Sam's Club. This can also be a great place to grab inexpensive fresh flowers! 
Print or make your own invites.
Postage is expensive enough as it is, so don't think you need to go crazy with your stationary choices. DIY your invites using an online design tool or get crafty with some scrapbooking supplies. (Bonus tip: Skip the "save the dates.") 
Have guests RSVP online.
Instead of providing postage to send RSVPs in the mail, have your guests do it online. There are plenty of easy ways to do this and it's usually free! 
Stay on the right side of Pinterest.
Pinterest can be a great place to find inexpensive wedding DIY opportunities. However, it's also easy to find yourself on the idealistic side of Pinterest. Then, you'll be dreaming of bigger and "better" things. (Not better, just way more expensive.) Keep yourself grounded and focus on budget-friendly wedding content only. 
Weddings don't need to be expensive to be special! 
Wedding culture has gotten out of control. The wedding industry is doing everything they can to make you feel like an expensive ceremony and reception is the only way you can celebrate your union. It's just not true! You can have an in-budget wedding that's special and memorable, while also being completely stress-free without the mountains of debt that usually come with the event! Start your marriage off right with smart financial choices. You can find out more about smart money moves on the blog.
Another way you can start your marriage off right is by adding a financial coach to your support system. As a coach, I'll help you establish a financial foundation, develop a budget, form goals, and stay on track every step of the way. It's a great investment into your future together!