When someone gets serious about paying off debt, they go through the usual journey. First, they have the "I've had enough" moment, where they're sick of living paycheck to paycheck and being a slave to their debt. Second, they create a budget and stick to it. Third, they cut down on non-essentials and tighten that budget up. 
Sometimes, this is enough to get out of debt. But, for thousands of people out there, this isn't enough. Even with the budgeting and cutting back, sometimes there's still not enough margin to tackle debt and get ahead. 
I call this "the fork in the road." It's when you have to decide what you're willing to do to reach financial freedom. It's often the hardest part of the process, because for a short period of time, you'll have to make big sacrifices. Here's how to embrace this part of your debt pay off:
How to Embrace the Stuck and Pay Off Debt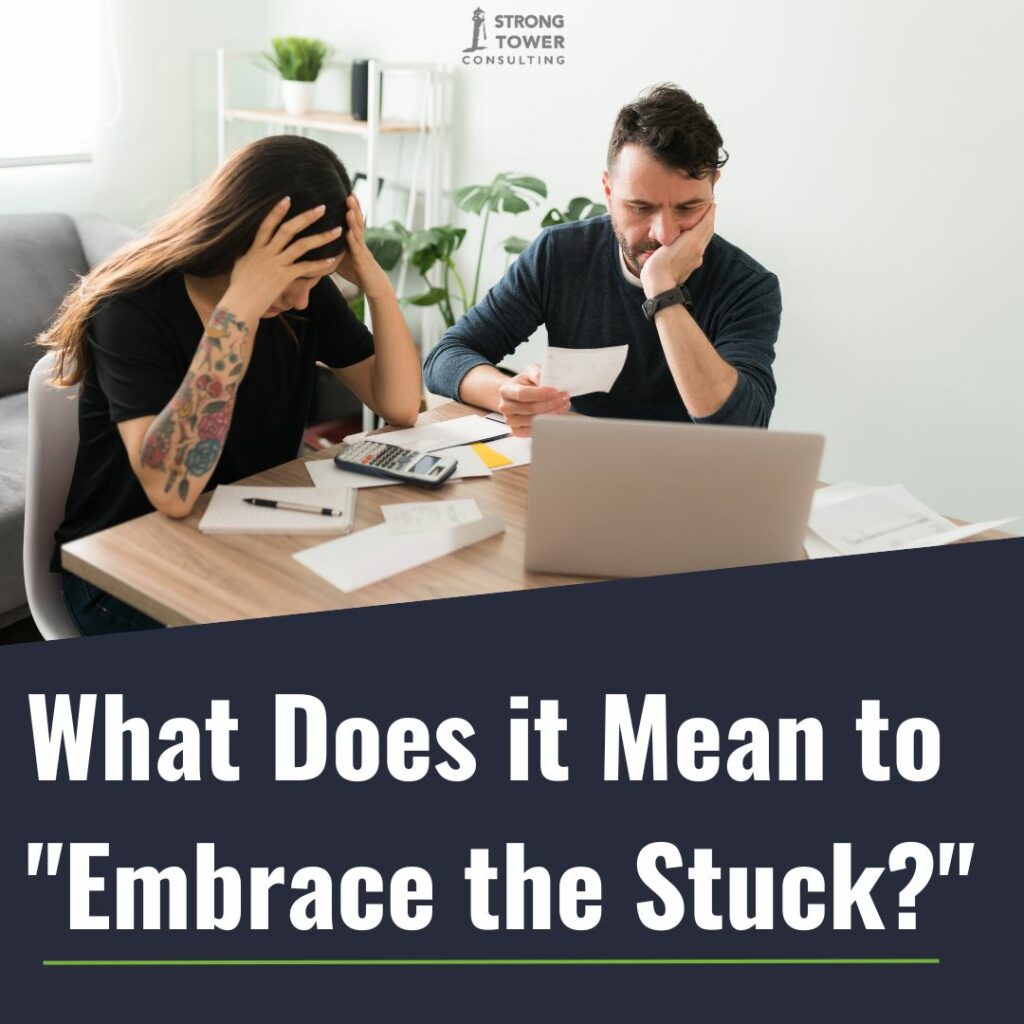 What Does it Mean to Embrace the Stuck? 
Embracing the stuck means making big sacrifices to achieve your goals with vigor and excitement. Right now, you are stuck! No matter how tight the budget seems, you just can't seem to take care of bills, make necessary purchases, AND pay down these principals. 
So, to get unstuck, you're going to have to do something you don't want to do. Your life will look different as you work extra hard and sacrifice extra big to be debt-free. You need to embrace this and visualize the life you're working toward!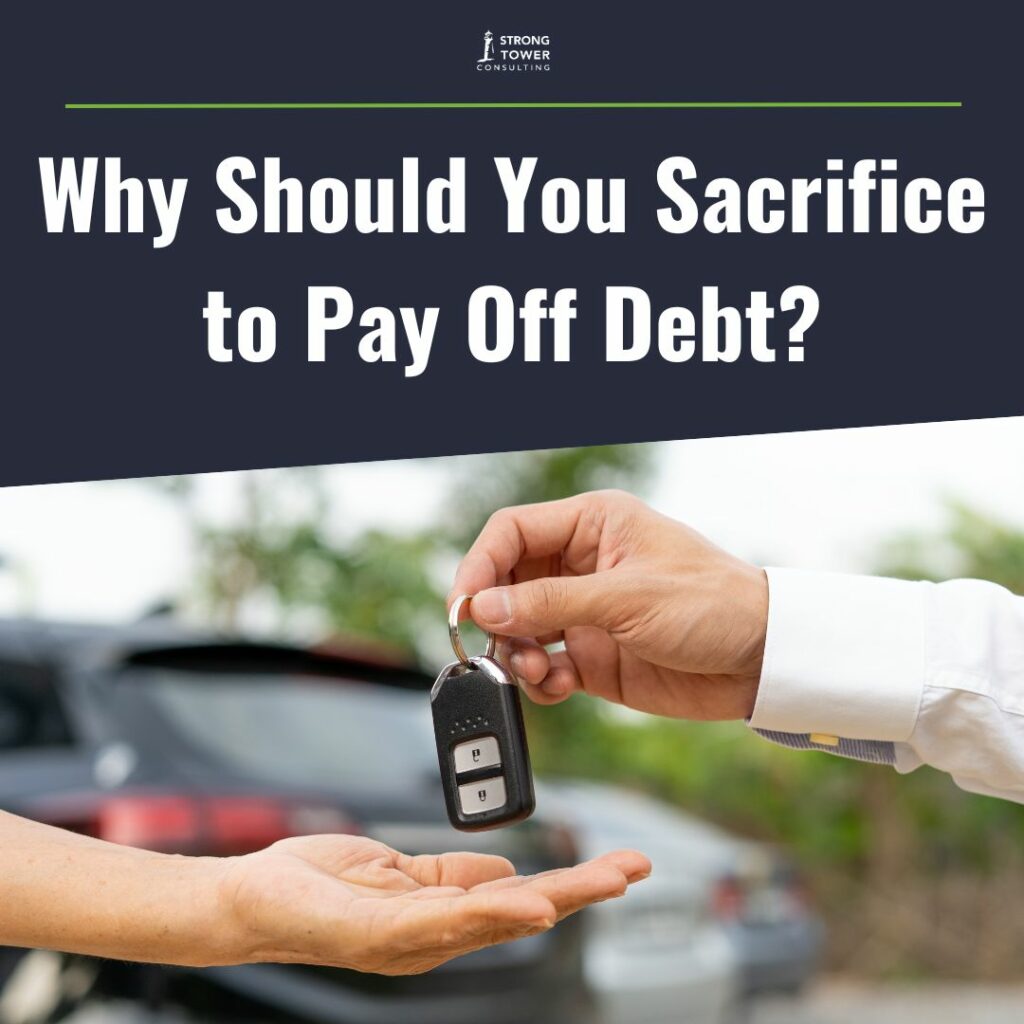 Why Should You Sacrifice to Pay Off Debt? 
So many people have a "you only live once" mentality when it comes to personal finance. What's the point of working hard if you NEVER play hard, right? Well, can you really ever enjoy the moments when you know your mortgage is late and you've got another debt payment coming out tomorrow? Can you really have peace in a house you can't pay for or enjoy a date night, knowing it'll put your account in the red? 
Of course not. When you have debt, you not only share your items with creditors, but you share your moments with creditors too . . . . That's a harsh reality, but it's true. That's why it's so important to buckle down and do the hard things now, to live the easy life later. (At least financially). 
Now that you've stopped overspending, gotten on a budget, and tightened the reins, what else can you do to pay down debt? We've already prepared you . . . these are going to be big changes that cause some emotional turmoil, lifestyle change, and inconvenience. Here's a few ways to buckle down to increase your margin: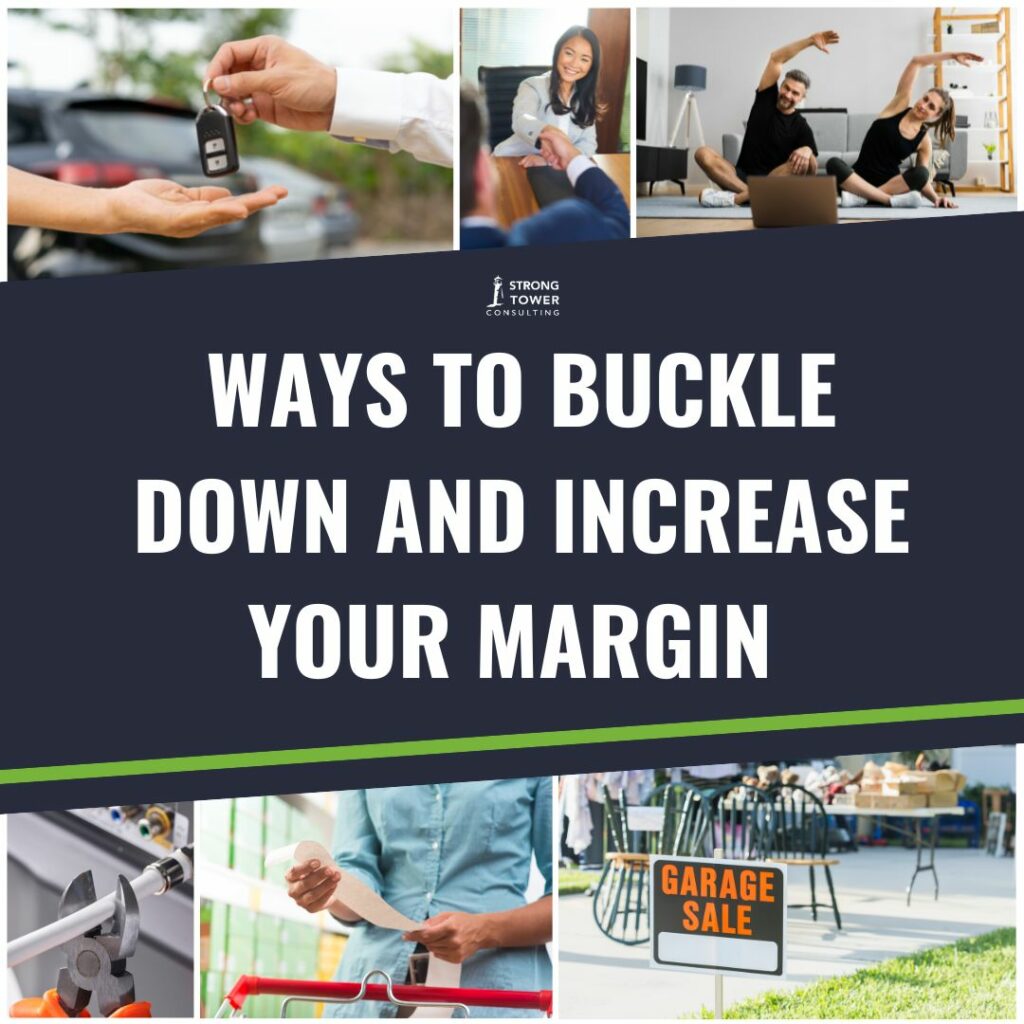 Ways to Buckle Down and Increase Your Margin 
Suspend retirement investing.
If you have any consumer debt, you should stop retirement investing. I know, SHOCKING! But, with debt still haunting you at retirement age, that savings will just go to creditors anyway, and this time with a lot of interest. 
If you continue to live like you live and make minimum payments and utilize debt, your budget will stay tight. You won't be able to put much into retirement, and when you finally do retire, you'll still have debt to pay plus a substantial amount of interest! 
However, if you stop contributions just until you complete your debt snowball, you can make bigger contributions and have better financial freedom when you do retire. Remember, we're pausing retirement investing, not stopping forever! 
Sell your car. 
The average car payment in America is around $700, which tells us a lot about how good the average American is with money. One thing it tells us is that the average person has WAY too much car. 
Ladies and gentlemen, I don't care how cool the car is. I don't care how "reliable" you think it is. (Chances are, it's not more reliable because it's newer.) And, I don't care how convenient it is. Get rid of your pricey car and pay for something with cash. You CAN find a great vehicle for under $10,000 no matter what your family's needs are. 
Additionally, if you have two vehicles, see if there's a way to go to one. (Even if it's hard!) And, if you live in a city that makes it possible, go to zero vehicles for a while. No gas. No maintenance. Of course, no payments. And, you can save money on your gym membership by walking and biking everywhere. (There's a two-for-one!)
Sell everything else. 
What else can you sell? Again, I am not just talking about the stuff you don't use anymore or the excess stuff around your house. I am talking about ALL the stuff. Keep just what you need. Get rid of the TV, the dining room set, the comicbook collection, the fishing boat, your clothes, the toys you were saving for the grandkids . . . . 
This part isn't easy. At all! Sure, your collections might be worth more in twenty or thirty years. You may have to buy furniture again when you're debt free. And, you may have gotten a really good deal on that curved TV! 
It doesn't matter. The goal here is to dig ourselves out of this hole. Sell it all, and go on a spending spree if you want when you're debt free. (A well-budgeted spending spree, of course.) 
Work an extra job or two.
You may be working a side gig. That's great! But, it may not be enough. If you're working a 9-5, it might be time to get a 6-2. And, before you say it, I already know. You won't have as much time with the kids. You won't have as much time with your wife. And, you can kiss your hobbies and social life goodbye. 
But, not forever. Not even for a long time! Guys, this is all about making big short-term sacrifices to have huge long term gain. You'll not only have financial gains, but a better quality of life and better mental state, all for the short term sacrifice. 
You'll miss some things in the next 2-5 years. Absolutely. But, you'll be more present and available for everything after that. And, remember, the harder you go, the faster this will be over with. 
Only buy food and drinks at the grocery store.
No more coffee runs, no more eating out, and no more fine dining date nights. The only place you'll be buying food is the grocery store, and probably a discount store at that. This one might be a big or small sacrifice, depending on who you are. Regardless, set the standard that you will NOT be getting food anywhere but the store. 
Cut back on holiday spending.
One legendary year, my wife and I only had $2 to spend on each kid at Christmas. We were going through the same "embrace the stuck" period as you! It was tough. I felt like a terrible father as my kids were winding through the aisles at Dollar General to find their 2 presents. 
Years later, they all admit that was one of their favorite Christmases ever. The joy of shopping together and finding items in their price range felt like a scavenger hunt! There was something exciting about it for them. 
The point is, you do not have to go all-out for the holidays. And, I don't just mean gifts. I mean, hosting parties and going into debt for travel expenses. To fully understand what this looks like, check out our article on having a budget friendly Christmas. 
Find the pets a new home.
As much as I love furry friends, they can be really expensive. Though this can be one of the hardest decisions you make on your debt-free journey, it might be necessary to free your family from the bonds of debt.
Each dog costs consumers about $50-90 a month and each cat is $30-$50. Beyond the expense, you'll also be working more and less available to care for them. So, it may be time to find them a new loving home. 
Cut all cable and streaming.
Despite what you think, television is NOT a necessity. And, again, you'll be working so much TV won't be a high priority when you have a little free time. Cut all cable and streaming services and save an average of $130 a month. DisneyPlus and Netflix are not worth a future of debt and anxiety.
Ditch the subscriptions.
Speaking of subscriptions, cut them all. Whether it's kids books, music streaming, meal deliveries, makeup, clothing, or coffee, get rid of it. Though it's fun to get a little surprise in the mail once a month, it's not something you need right now, no matter how much you think you do. 
And, if you're paying for regular home cleaning, landscaping, and laundry, cut that too. If you can do it yourself, do it yourself. There is a time when convenience is worth the money, but it's not now. 
Workout at home. 
I'll never forget the family I met with that paid over $2,000 a month in gym memberships. The prices have gotten astronomical! Though I agree that physical wellness is a must, there are a lot of ways to get exercise instruction and routines online for free. 
If you still like the community aspect of going to a gym, consider asking some of your friends if they'd be willing to join you for a short time exercising outside the gym. 
Lose the expensive hobbies. 
Self care is important, but we don't have the time or money for expensive hobbies. Art supplies, club memberships, sports equipment, or whatever else you're into costs money. For a season, downsize your hobby or cease it altogether. 
You could even consider selling some of your tools, supplies, and equipment just for now. Use picking up your hobby again as motivation to get out of debt even faster! 
Trade services.
There are some things you just can't cut. The family still needs haircuts, the toilet still needs fixed, the kids need tutoring, and somebodies gotta prepare taxes. Since you can't avoid certain expenses, try to use your own skills to trade services. 
If you're a skilled resume writer, maybe you help out a friend's son with his job applications in exchange for their hair cutting know-how. Or, if you're good at fixing stuff, maybe you do an oil change for the kids' piano lessons. The point is, get creative with stuff that still cuts into your margin each month. 
Move somewhere else. 
I know. Take a deep breath before this one. You may need to sell the forever home. But, guys, it's not a sanctuary if you're house poor and drowning in debt! You can't enjoy it. The house is a prison and you don't even know it! 
And, before you tell me that ALL the houses in your area will be this pricey, consider moving away or going small. Move your family into an apartment or find a home in a neighboring town. Of course, your jobs will have to be taken into consideration, but with so many people moving to remote work, moving has never been more possible.
Plus, a new job might not be a bad idea. You may be able to move somewhere else and find a better paying job AND use the equity on your previous home to pay off big chunks of debt. Then, in a few years, you can buy your TRUE forever home. This time, it'll be something you can afford.  
Get out of debt by embracing the stuck and making BIG sacrifices.
Was this post a little emotional for you? Yeah, this conversation is never easy with my clients. It's overwhelming to think about huge life change. But, it only makes sense that you have to do something big to see a big result. 
So, what are you willing to do to reach your financial goals? If you're not sure and you need to talk to someone, feel free to join me for a complimentary session. I can walk you through a great plan to get you out of debt, and if you take me up on financial coaching, I can be with you every step of the way. I did this, so I know you can do it. Let's get after it!