No matter how you celebrate Halloween and other holidays, the pressure from all the added cost can be overwhelming. It can be so stressful, in fact, you don't enjoy Halloween at all! To make sure you keep your holiday memorable, relaxed, and family-focused, prepare your budget for common expenses and cut the stuff that doesn't matter. 
To help you budget enough, I'm dedicating this post to hidden costs associated with Halloween. These are expenses you maybe never thought about at all or maybe budget items that you just didn't realize were so expensive. Whatever you need to support your October budget, I'm here for you! Here are hidden costs of Halloween: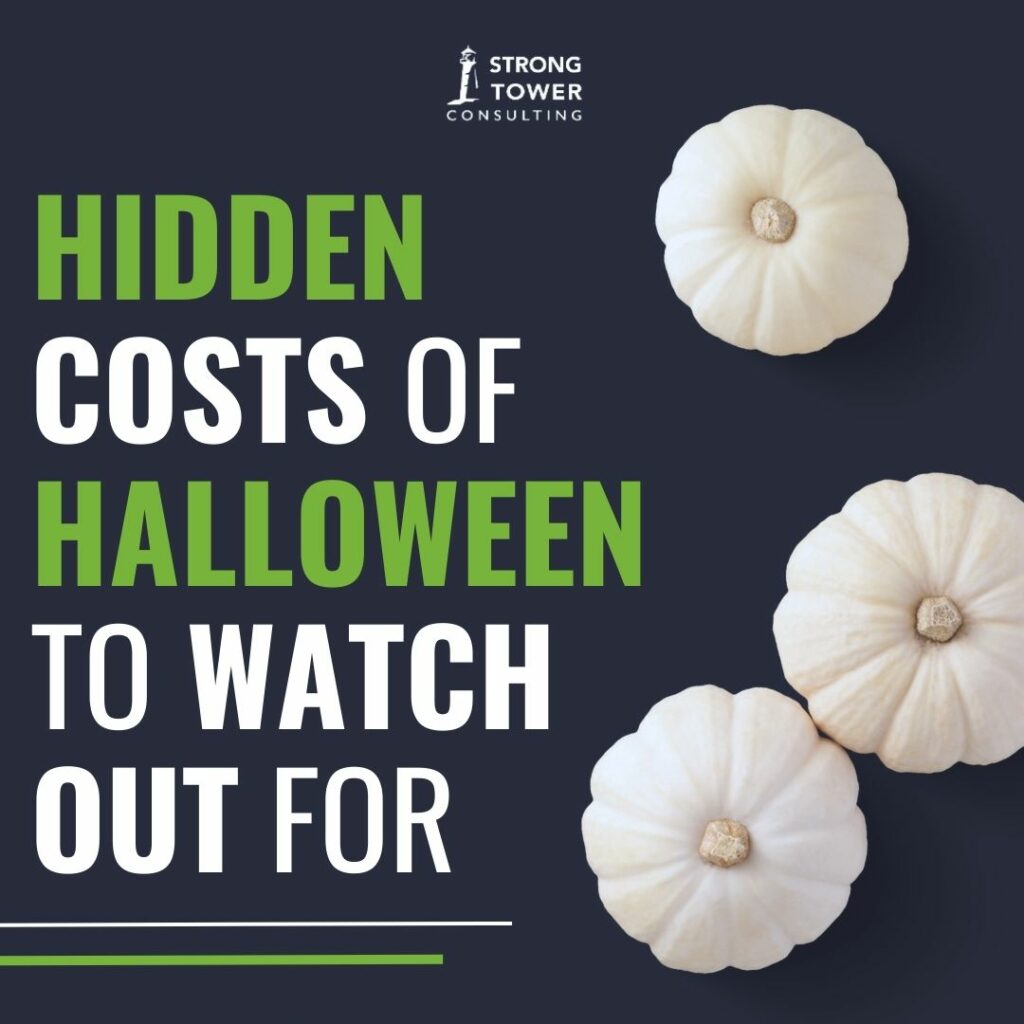 Hidden Costs of Halloween to Watch Out For 
Store-Bought Costumes and Accessories
When you think of Halloween costumes, you're probably imagining cheap fabric, flimsy plastic, and an overall unconvincing imitation of the reference. However, the price tag doesn't reflect that most of the time, with costumes averaging $30-$50 a kid. This adds up fast—especially when you include accessories. 
What to Try Instead: Make a homemade costume out of inexpensive materials and things you already have. Or, shop at thrift stores to find a gently used costume for a fraction of the price. 
The Family Costume Trend
If kids' costumes weren't pricey enough, getting the whole family (even your pets) dressed up adds to the Halloween price tag. There is a lot of pressure to take cute family photos while everyone is in matching costumes, but it's really not necessary. Don't get wrapped up in the hype if you're on a tighter budget! 
What to Try Instead: Leave the costumes for the kids.
All the Decor—Especially Outdoor Decorations
Halloween decorating has become as intense as Christmas decorating! Every time you go to a store you're bombarded with tons of expensive decor, and there;s an unspoken expectation that every year, your house needs to be extra spooky and exciting. However, you don't need a 12 foot skeleton to set the tone for Halloween night. Just flip on the porch light—trick-or-treaters will come. 
What to Try Instead: Keep it simple with carved pumpkins and a few DIY decorations. 
Higher Electrical Costs
If you do budget for all the extra Halloween decoration pizzazz, you can expect higher electric costs for the month of October. The lights, sound, and animatronics pull a lot of power. It'll all add to your monthly electric bill! (It's getting colder too, so that doesn't help keep utilities down either.)
What to Try Instead: Only run your display for a few hours a night and drop the temperature while you're sleeping. 
Chocolate and Other Candy
The average household spends around $30 on candy. If you opt for chocolate or king size candy, this number gets even higher! Of course, feel free to participate in handing out candy if that's something you enjoy. However, don't try to be the coolest house on the block with the best treats. 
What to Try Instead: Since it's not socially acceptable to hand out homemade baked goods, opt for cheaper candy options. 
Obligatory Events and Hosting Expectations
If you have a thriving social life (or your kids do), you'll be met with a lot of Halloween-centered events and activities. You may even be pressured to host one! Parties and activities are expensive, especially when you have a big family. So, practice saying no and don't be afraid to explain your financial goals with your friends and family, who were hoping you'd be up for a craft market shopping spree or a 2-day pumpkin patch extravaganza. 
What to Try Instead: Say no to things that aren't in the budget and find free ways to enjoy fall with your family. 
"Boo Baskets"
I swear companies start these social media trends just to pull more money out of us. Recently, I was told about "boo baskets," which are curated Halloween-themed gift baskets parents give to their children. Give me a break! I'll let you hear this from me: Your kids don't need gifts every time the weather changes.
What to Try Instead: Remember kids are happy just with the candy. If you want to make the day more special, bake something or make a craft together. 
Childcare for Fall Break 
Fall break is coming! If your household includes two working parents, you may need childcare for those days off school. This can be a big expense, so don't forget to plan and budget for this! 
What to Try Instead: Ask a retired grandparent or aunt/uncle to watch your kids. They may be willing to do it at a discount or even for free.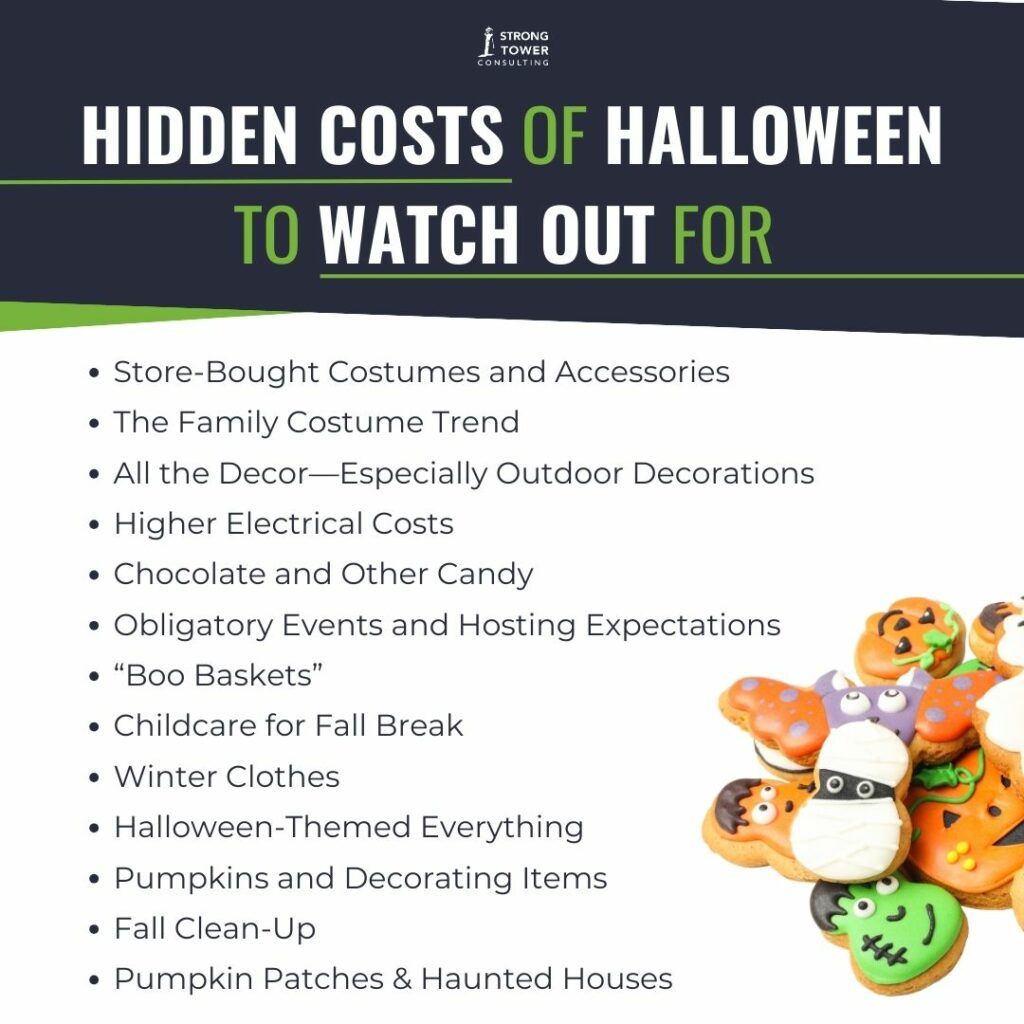 Winter Clothes
Depending on where you live, it gets cold in October. (It does here in Iowa.) Even if you've already spent the money on a Halloween costume for trick-or-treating, it may not be warm enough for after-dark activities. Your child may need some extra layers. If you haven't grabbed clothes for the next season, add it as a budgeting line item!
What to Try Instead: Budget extra for winter clothes and start a sinking fund to cover other clothing costs throughout the year. (More on that below.) 
Halloween-Themed Everything 
Everything will have a tempting "Halloween" spin this time of year, and with it comes a price hike! Whether it's a seasonal coffee flavor or bright orange kids' shampoo, your family will be pushed constantly to spend a little extra for Halloween cheer. Don't fall for it!

What to Try Instead: Steer clear of any seasonal items and go with lower cost alternatives. 
Pumpkins and Decorating Items
Pumpkin carving and decorating is a tradition in most households. If you're in that camp, make sure pumpkins and supplies are in the budget! This may include pumpkins, stencils, kid-safe carving tools, paints, brushes, and more. 
What to Try Instead: Avoid buying pumpkins from pumpkin patches and farmer's markets, instead, get cheaper pumpkins from supermarkets and wholesale stores. 
Fall Clean-Up
Cleaning up your yard isn't just good for your lawn and curb appeal, it's important for Halloween safety. Avoid tripping hazards by getting the yard cleaned up before Halloween. Budget for costs associated with that process!
What to Try Instead: Leave yourself lots of time to get things cleaned up yourself, so you don't have to hire anyone. Bag everything up and dispose of it as cheaply as you can—hopefully it can go right in your waste bin! 
Pumpkin Patches & Haunted Houses
These are a Halloween tradition for many families. If you want to make the pumpkin patch experience part of this Halloween or you know your teenagers will be begging cash to go to a haunted house with their friends, go for it, but make sure it's in the budget. 
What to Try Instead: Go on a cheaper day of the week. (It's usually even cheaper if it's in September instead of October.) Also, bring your own drinks and snacks to avoid extra expenses while you're there.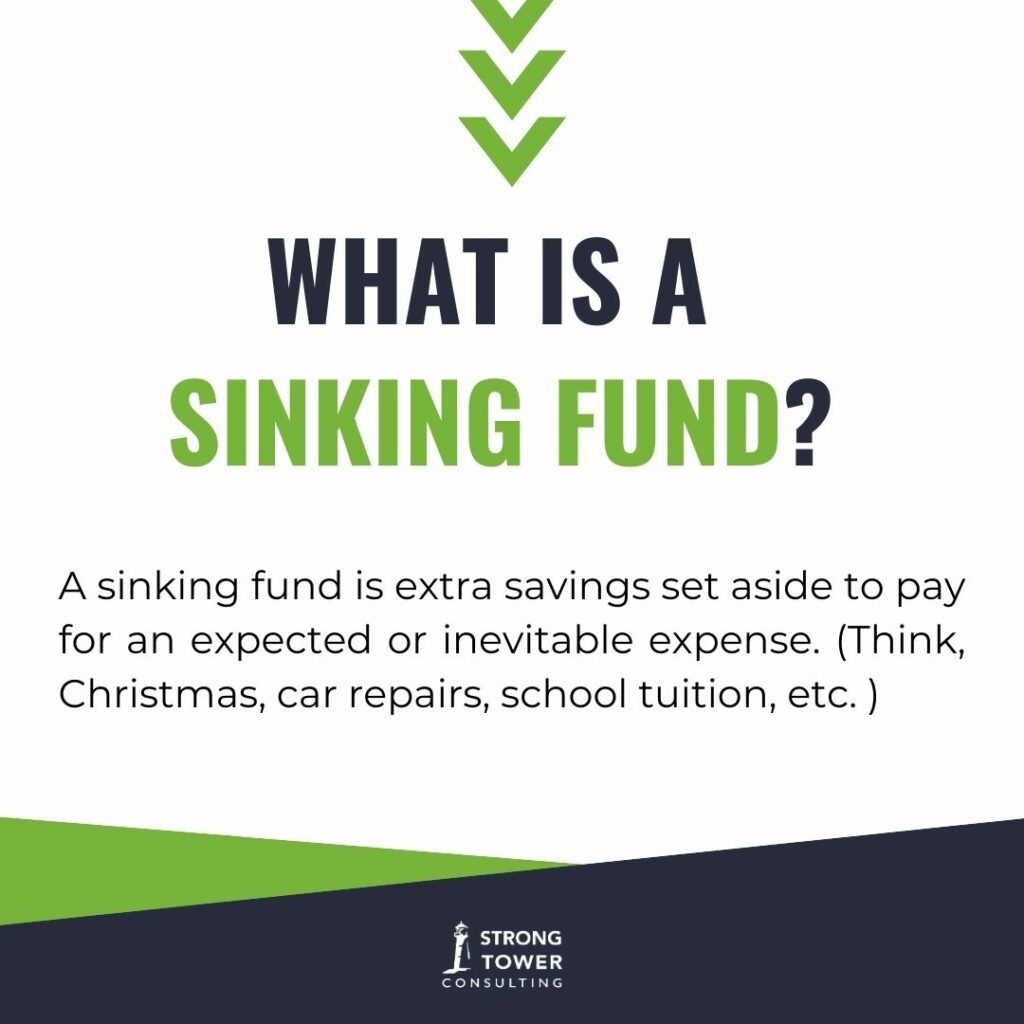 How Can You Prepare Better Next Year?
If budgeting all this stuff in is proving difficult this year, I get it! When holiday months come up, there seems to be a never-ending list of expenses. However, you can start planning now for next season by creating a holiday sinking fund! 
What is a Sinking Fund?
A sinking fund is a designated "savings" fund where you budget a small amount each month to go towards a known big expense. Things like holidays, birthdays, clothing, car repairs, and more are just to be expected. To prepare for these expenses, start investing now using a sinking fund! That way, your budget won't break when a demanding month like October pops up!
Here's more on sinking funds. 
Prepare for these hidden Halloween costs. 
Halloween is just around the corner. Budget for these unexpected holiday costs and cut where you can. Remember, the season is about family, friends, and memories—not all the times you swiped your debit card. Stay focused on what's important and have a great Halloween!
Despite the warning, do you still feel like your budget just doesn't work? Do you struggle month after month to keep your financial life together? Living paycheck-to-paycheck is exhausting, but I can help! Meet me for a free session where we can discuss your daily setbacks and start forming a plan for your financial future. We can do this! 
Here are more helpful posts if unexpected expenses are financial plan: